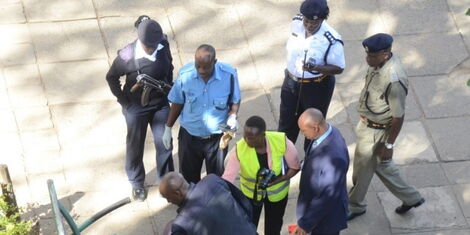 A gloomy mood engulfed a local estate in Ruiru, Kiambu County after a 35-year-old man was shot and killed on Sunday morning, Sept. 11.
In a statement from the DCI, the deceased and his girlfriend were accosted by armed thugs who forcibly took valuables before opening fire on the man.
Recounting the incident, the apartment guard, Samuel Wafula, noted that the girlfriend entered the gate first, followed by the deceased in a private car.
An undated photo of police officers and detectives at a crime scene in Kenya
File
"After the vehicles drove past the main entrance, three men forced their way in, went straight to the lady's vehicle and started searching it," the guard told detectives.
As the man parked his vehicle, he saw the crooks approaching his girlfriend and rushed to her aid, brandishing a rungu.
"The armed thugs then opened fire and shot him in the stomach as they fled, attracting the attention of police officers patrolling the area."
Neighbors who heard the commotion responded to the incident and rushed him to the RFH hospital in Ruiru, the DCI said.
However, during treatment, the man succumbed to his injuries.
The detectives who were aware of the case confirmed that the couple had enjoyed their evening at a local grill on the Thome estate before heading home around 4:30 am.
The detectives also pointed out that the armed criminals had followed the couple in a car, which they were using as their getaway vehicle.
Among the recovered items are two used 9mm caliber cartridges.
"Investigations into the early morning murder have been launched and detectives are following crucial leads to unravel the suspects behind the most sordid murder," the DCI noted.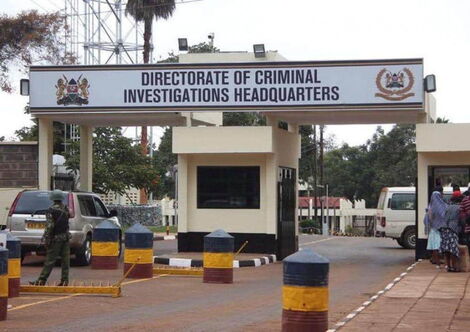 Image of DCI's headquarters along Kiambu Road
Daily Nation
dead armed firework murder criminal suspect armed