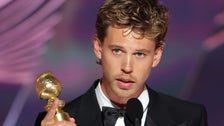 Austin Butler's Golden Globe acceptance speech had an audience that listened closely — and not just because of his heartfelt shout out to Elvis Presley's family.
Many keen-eared fans noticed that Butler, who won Best Actor in a Motion Picture – Drama on Tuesday at the Golden Globe Awards for his stunning portrayal of Elvis, still clearly sounded like the king. And some suspicious ghosts even thought he did the voice on purpose.
People have made this comment in the past saying that his post-'Elvis' voice clearly sounds deeper than in roles and interviews he had before shooting the Baz Luhrmann movie. Butler even poked fun at the speculation in his "Saturday Night Live" monologue last month.
After his acceptance speech, Butler talked about his apparent vocal transformation in the press room.
The actor then compared working on 'Elvis' with living in another country for a long time.
"I had three years where that was my only focus in life, so I'm sure there are just bits of my TBEN that will always be connected in that way," he said.