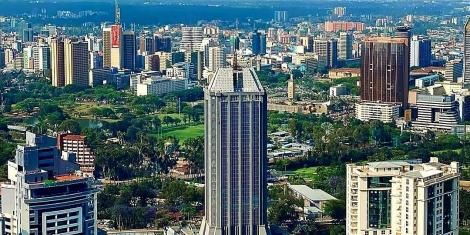 The National Treasury has disclosed the provinces that have received the highest budget allocations during the tenure of former President Uhuru Kenyatta.
In a two-page document published in local newspapers on Tuesday, September 20, Treasury tabulated its expenses between fiscal years 2013/14 and 2021/22. In total, it has spent a total of Ksh2.8 trillion.
"Including FY 2021/22 payments, provincial governments have cumulatively received Ksh2,777,100,132,607 since inception," the report said.
Nairobi County received the highest payout of Ksh133.2 billion, followed by Turkana County, which received Ksh96.37 billion. TBEN.co.ke broke the data and compiled the following list:
An aerial view of the capital Nairobi
File
Top 10 Provinces That Received the Most Funding
Nairobi – Ksh133.2 billion (Ksh133,251,311,438)
Turkana- Ksh96.37 billion (Ksh96,375,259,118)
Kakamega- Ksh94.34 billion (Ksh94,349,024,353)
Nakuru- Ksh92.04 billion (Ksh92,047,73,227)
Kiambu- Ksh89.03 billion (Ksh89,031,987.261)
Mandera- Ksh88.3 billion (Ksh88,307,330,631)
Kilifi – Ksh86.29 Billion (Ksh86,291,545,315)
Bungoma – Ksh79.59 Billion (Ksh79,598,667,910)
Kitui – Ksh76.28 Billion (Ksh76,280,041,754)
Machakos- Ksh73.49 Billion (Ksh73,492,630,147)
The 10 provinces that received the lowest funding in billions were: Lamu (Ksh24.03), Tharaka Nithi – (Ksh33.49) Elgeyo Marakwet (Ksh34.5), Isiolo (Ksh34.52), Taita Taveta (Ksh 36.25), Laikipia (Ksh37.7), Kirinyaga (Ksh37.8), Samburu (Ksh38.12), Vihiga (Ksh40.6) and Embu (Ksh41.32).
Top 10 counties with the highest and average payments per person
Treasury has further broken down its spending by the average amount it has spent per person per province in each of the last nine fiscal years. The government spent the most on every resident of Lamu and the least on residents of Nairobi.
"In terms of per capita, payments to provincial governments grew from Ksh4,114 in 2013/14 to Ksh7,157 in 2021/22. This translated to an annual average of Ksh6,487, with Nairobi receiving Ksh3,367 against Lamu's Ksh18.554 ," read the financial statements
Countries with the five highest average annual payment per capita include:
Lamu – Ksh 18,554
Tana River -Ksh16,232
Isiolo – Ksh14,312
Samburu -Ksh13,682
Taita Taveta – Ksh11,824
Those with the five lowest average annual payment per capita were: Nairobi (Ksh3,367), Kiambu (Ksh4,092), Nakuru (Ksh4,730), Kajiado (Ksh5,207), and Meru (Ksh5,262).
The difference in expenditure per person per province is caused by the varying population density per province.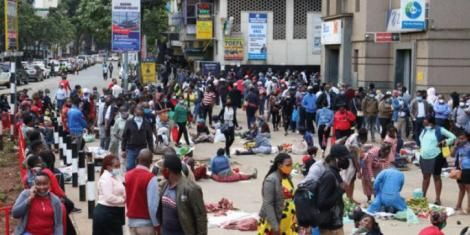 Nairobi residents pictured in the Kenya National Archives section of Nairobi CBD.
Twitter