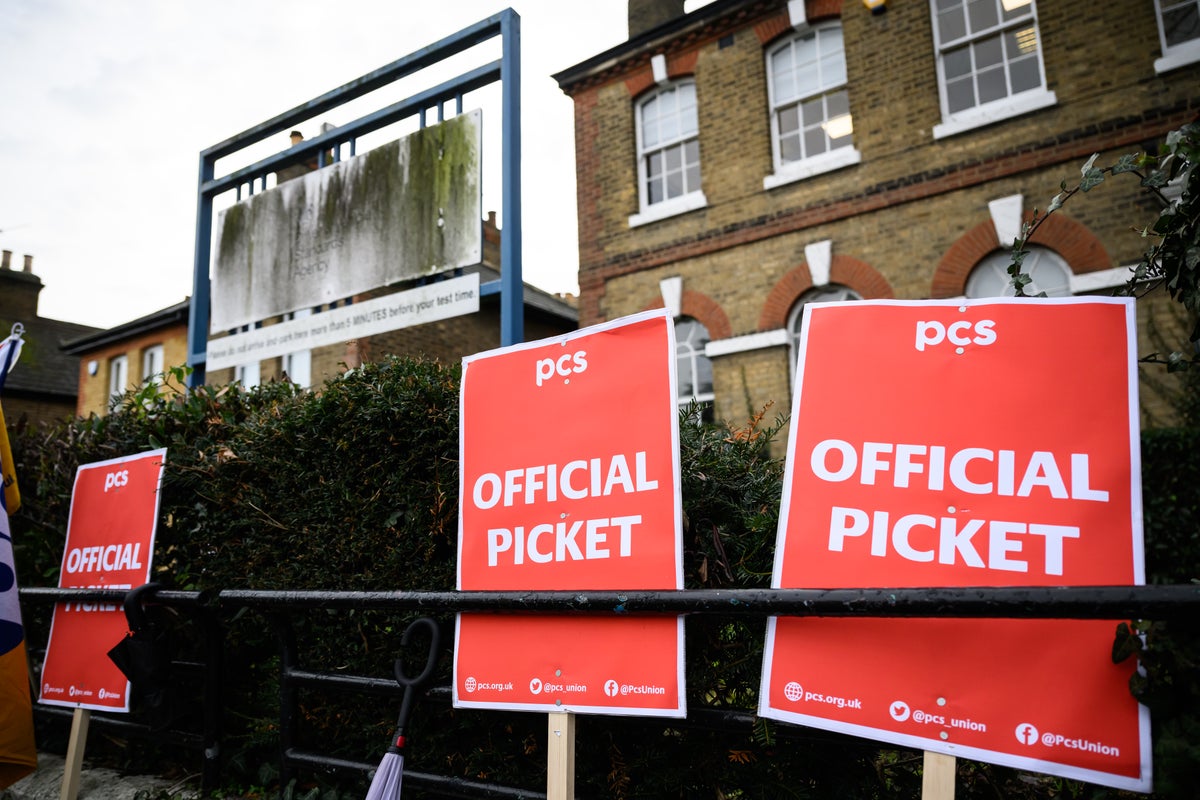 At least 100,000 workers will walk out next month as part of a coordinated national "day of action".
The Public and Commercial Services union has announced that its members from 124 government departments and other bodies will leave on February 1, in what the TUC has called a "national day of action".
It will be the largest civil servant strike in years and signals a significant escalation of union action after a month of strikes over wages, pensions, severance conditions and job security.
The action coincides with the TUC's "protect the right to strike" day announced yesterday.
A further 33,000 members working in five more branches, including HMRC, will vote again next week to join the union's national strike action.
It comes as 25,000 paramedics walked out on Wednesday.
PCS general secretary Mark Serwotka said: "During the past month, as thousands of PCS members from various departments engaged in sustained industrial action, the government said it was out of money.
"But it managed to find millions of pounds to spend on managers and military personnel in a failed attempt to cover the essential work of our members.
"We warned the government that our dispute would escalate if they didn't listen — and we're keeping our word."
It follows months of industrial discontent in various sectors, including healthcare, the rail network and education.
Unions representing workers from a range of public professions have concluded that they have no choice but to take industrial action as their calls for better wages and working conditions go unanswered as the cost of living continues to rise.
It comes amid warnings that a majority of public schools in England and Wales will close for several days in the coming months if the country's largest education union votes to strike.
The National Education Union (NEU) would expect its members to have voted in favor of mass union action when the vote closes on Friday.
In Scotland, members of the Educational Institute of Scotland (EIS) walk out on January 10 and 11, while members of the Scottish Secondary Teachers' Association (SSTA) leave on the second day.
Elsewhere, rail union leaders have launched a vehement attack on the government, accusing ministers of fueling the bitter dispute over jobs, wages and working conditions and blocking deals to resolve the feud.
Former Transportation Secretary Grant Shapps was criticized by officials from three unions when they testified before the Transportation Select Committee.
Mick Lynch, general secretary of the Rail, Maritime and Transport union (RMT), said the long-running conflict was "conceived" by the Department for Transport (DfT).
"This is Shapps' project – the dispute has been left to the rest of us to resolve," he told MPs.
Frank Ward, interim general secretary of the Transport Salaried Staffs Association (TSSA), said he had written to Mr Shapps when he was transport secretary to request a meeting but had no reply.
"He didn't exist," he told the committee.