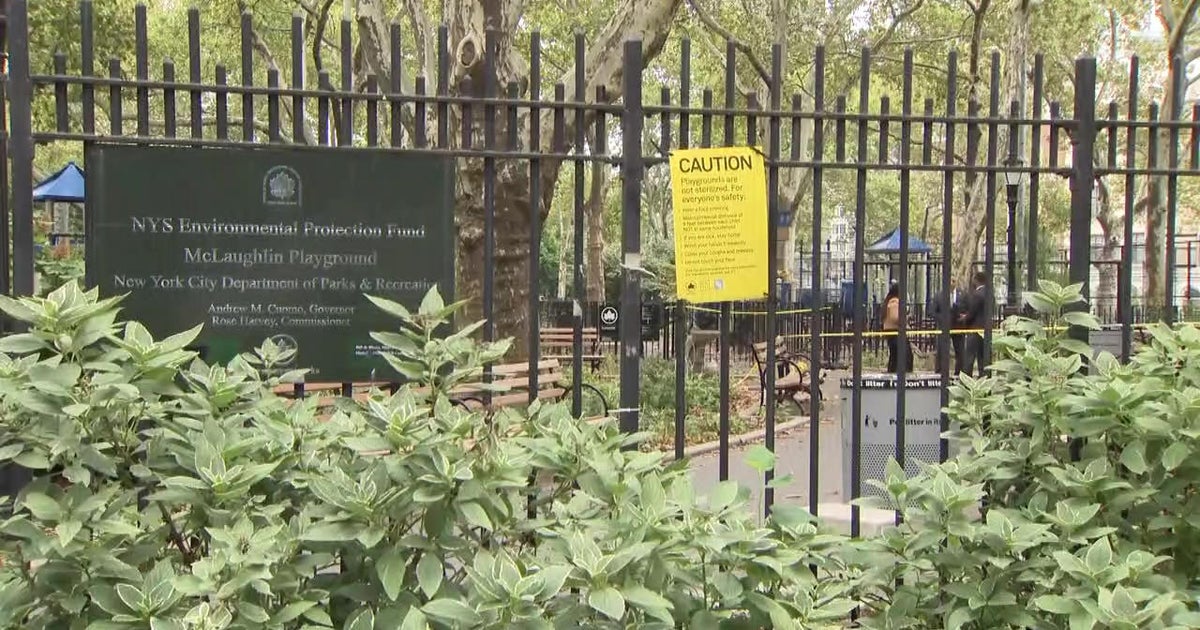 NEW YORK — Police say a 15-year-old was shot and killed after school in Brooklyn on Wednesday.
Police say the student was shot in the stomach after leaving class early, TBEN's Ali Bauman reported.
The NYPD had the crime scene taped up around McLaughlin Park.
Police said the victim is a student at Brooklyn Lab Charter School, two blocks from the park. He was fired for half a day at 1:30 p.m. and walked to the park.
Police say 15 minutes later the victim was sitting on a park bench with two girls about the same age when two school-age boys in ski masks approached him and started arguing with the victim. That escalated into a fistfight and then one of the suspects pulled out a gun and shot the victim once in the abdomen.
The suspects ran away and the victim was rushed to Methodist Hospital, where he later died of his injuries.
The two girls who were with the victim were said to be talking to detectives from the nearby police station. Police are looking for two suspects and said there were about 30 witnesses in the park at the time of the shooting.
dr. Brooklyn Lab Charter School CEO Garland Thomas-McDavid released a statement saying:
"Unfortunately, many of our students are far too familiar with the increase in violence in our community. To support our students and teammates in coping with this event, Brooklyn Lab will be providing on-campus professional counseling starting tomorrow, in addition to the social school workers who be on our campus every day. We are also in contact with the local police commander and community partners to request increased police presence on discharge and conflict resolution support for our community. As always, we will prioritize the safety and well-being of every individual in our school community as we navigate the coming days. We remain confident in our ability to help our students learn and keep them safe as they attend our school."
Anyone with information is requested to call the NYPD Crime Stoppers Hotline at: 1-800-577 TIPS (8477)or for Spanish, 1-888-57-PISTA (74782). You can also submit a tip through their website or via DM on Twitter, @NYPDTips. All conversations are treated confidentially.
Check back soon to learn more about this evolving story.