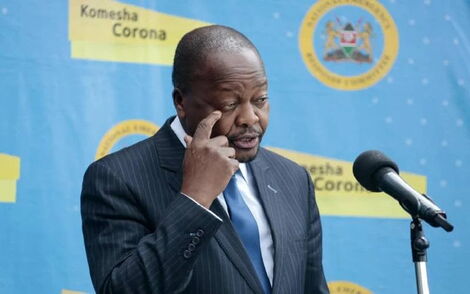 1,698 people have tested positive for Covid-19, out of a sample of 11,352 people tested in the past 24 hours with a positivity rate of 14.9%.
The total number of confirmed positive cases of Covid-19 now stands at 143,063, while the cumulative tests performed so far stand at 1,542,088.
Of the cases announced today, 1,591 are TBEN, 107 are foreigners, while 926 are men and 772 are women. The youngest is a 17 day old infant while the oldest is 100 years old.
Health CS Mutahi Kagwe addresses media outside Afya House in June 2020
Deposit
Unfortunately,16 deaths have been reported in the past 24 hours. One occurred in the past 24 hours, one in the past month, while 14 are late death reports from facility record checks that took place on various dates. This brings our cumulative deaths to 2,292.
At the same time, 456 patients have recovered from the disease, 267 from home care and isolation, while 189 are from various health facilities.
The total number of recoveries now stands at 97,650.
Currently a a total of 1,620 patients are admitted to various health facilities across the country, while 4,247 patients are hospitalized at home Isolation and care.
235 patients are in the intensive care unit (ICU), including 48 on ventilatory assistance and 155 on supplemental oxygen. 32 patients are under observation.
Another 261 patients are separately on supplemental oxygen with 248 of them in general services and 13 in the high dependency unit (HDU).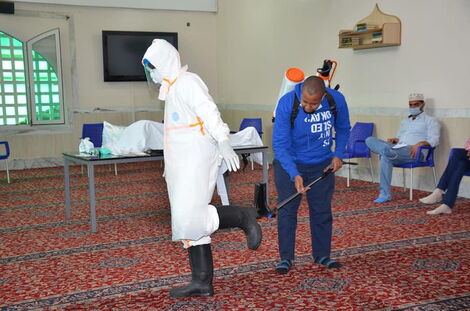 Training of volunteers on the management of deceased Covid-19 victims at Jamia Mosque in Nairobi on April 4, 2020.
Facebook
Jamia Mosque
Meanwhile, Narok County Roads and Public Works CEC John Marindany, succumbed to Covid-19.
Marindany died on Wednesday April 7 in a Nairobi hospital while receiving treatment. He had been ill Monday at his home in the village of Chelchel.
"Yesterday at around 3 pm, he developed respiratory problems while undergoing treatment at the hospital and was pronounced dead shortly," reads a report from Angata Barrikoi's chief Joseph Kirui.
In addition, the Kenyatta National Hospital announced that it was reducing surgeries of an elective nature on Wednesday, April 7.
In an advisory, the hospital said it was experiencing an increase in its oxygen uptake due to the Covid-19 pandemic and that over the past year, average oxygen uptake has doubled.
However, on Thursday April 8, the government unveiled an Oxygen Task Force with the aim of formulating plans and strategies to alleviate the current oxygen scarcity crisis in the country.
According to Cabinet Secretary of Health Mutahi Kagwe, the lack of oxygen had worsened, adding that it was time for the government to produce a plan to deal with it.
"Oxygen Taskforce has identified service, maintenance, operation and piping issues as a requirement, which we are currently working on to address with partners such as the World Bank and the French government," one reads in an excerpt. of the press release.