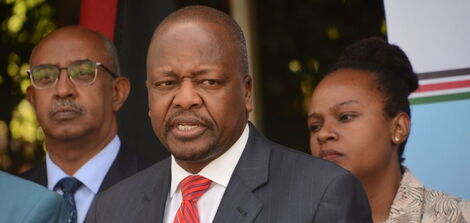 In total, 394 people have tested positive for Covid-19, on a sample of 2,923 people tested in the last 24 hours with a positivity rate of 13.5%.
The total number of confirmed positive cases of Covid-19 now stands at 139,842, while the cumulative tests performed so far stand at 1,523,313.
A statement released by Health CS Mutahi Kagwe showed that a staggering 2,217 patients had recovered from Covid-19 in the past twenty-four hours. The number of cumulative recoveries now stands at 96,578.
Health CS Mutahi Kagwe addressing the Nation about the Corona virus outside Afya House on March 17, 2020.
Simon kiragu
TBEN.co.ke
Of the cases announced today, 374 are TBEN, 20 are foreigners, 209 are men and 185 are women. The youngest is an eight month old baby while the oldest is 95 years old.
Sadly, 14 deaths have been reported in the past 24.
A total of 1,576 patients are currently admitted to various health facilities across the country, while 6,182 patients are in isolation and in home care.
205 patients are in the intensive care unit (ICU), of which 46 are on respiratory support and 130 on supplemental oxygen. 29 patients are under observation.
Regarding vaccination, a total of 325,592 TBEN have been vaccinated to date.
A total of 277 adverse reactions to the vaccine have been reported across the country. These include headaches and other side effects. The majority of them would have been settled within 2 days.
Cumulative vaccination status in counties; Nairobi, Nakuru, Usain Gishu, Kisumu and Kiambu counties have recorded the highest total number of vaccinations to date with 108,180, 23,511, 18,516, 13,644 and 13,623 respectfully.
A list of where eligible people can go for free COVID – 19 vaccinations is available on the Department of Health website or county.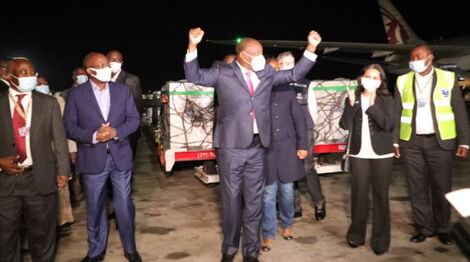 Health CS Mutahi Kagwe (center) receiving the first batch of Covid-19 vaccine on Tuesday, March 2, 2021.
Twitter