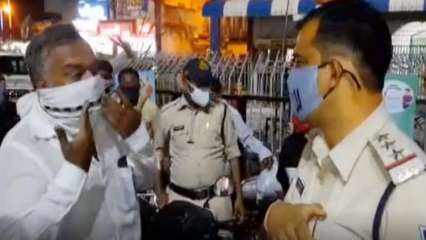 Taking strict action against those violating COVID-19 guidelines even as cases escalate, Madhya Pradesh police have sent 258 people to temporary prison for not wearing masks in public places.
According to reports, a community guesthouse in the Snehlataganj area of ​​Indore has been designated as a temporary prison on instructions from the local administration. The guest house has the capacity to accommodate 300 people.
The offenders were arrested in different parts of the city under article 151 (Preventive arrests carried out to prevent denounced crimes) of the Code of Criminal Procedure (CRPC). They roamed public spaces without wearing masks.
A police official informed that these inmates in the temporary prison are usually released within three hours of admission. A total of 15 police officers have been deployed and CCTV cameras are also installed in the temporary prison.
Note, Indore is the district most affected by COVID-19 in Madhya Pradesh. In the past 24 hours, 805 new cases have been reported in the district.
Speaking to the ANI news agency, Dr Amit Malakar, COVID-19 district nodal officer, said: "The rate of Covid positivity is close to 15%. In March 2021, only 9,913 patients in total were found positive for Corona in Indore district, while 29 people died in the same month of March. As of March 2020, however, there were a total of 46 cases found without death. "
.