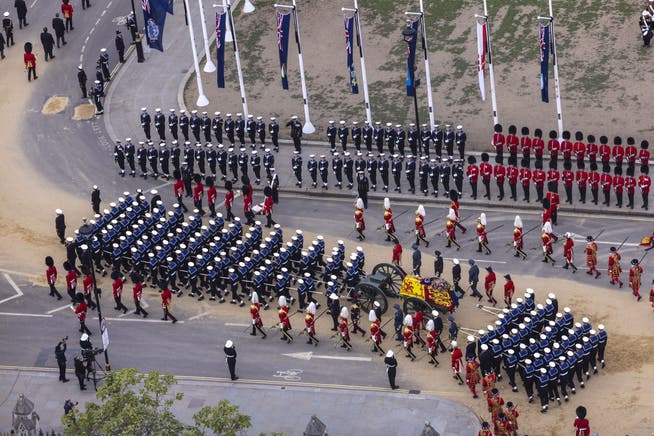 Queen's Funeral

4000 members of the armed forces parade for the Queen
The British State Funeral is also an excellent showcase for the Armed Forces. The state gun carriage, pulled by almost 150 sailors, is a very rare sight even for the monarchy.
The British Ministry of Defense proudly tweeted at regular intervals this Monday about the role of the armed forces at the Queen's state funeral. A total of 4,000 members are deployed in London: 2,000 parade at the three processions, 2,000 stand as guards of honor along the procession route.
The hand-drawn state gun carriage plays a special role here, the sight of which seems archaic, especially to foreign eyes.
It is extremely rare for the public in the UK to see this type of coffin vehicle. This has only happened twice since World War II, the last time in 1979. Lord Louis Mountbatten, Prince Philip's uncle, who was assassinated by the IRA, was buried in the same way as Queen Elizabeth II is today.
The coffin, bedded on a howitzer, is pulled by 142 Royal Navy sailors, accompanied by six naval officers. This emphasizes the particularly close connection of the Navy to the royal family, which is why many members of the royal family, starting with the king, wear naval uniforms.
In the case of Louis Mountbatten, always called "Dickie" by the Queen in the family circle, the funeral trip on the gun carriage had been his own wish. As a former Admiral of the Fleet, First Sea Lord of the Admiralty and Chief of Staff of the Armed Forces, he felt highly entitled to do so.
In addition to the Queen and Mountbatten, only King George VI has been crowned since the Second World War. same honor in 1952.