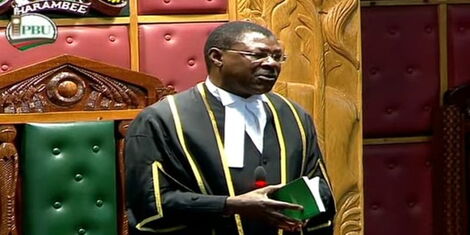 The administration of President William Ruto has launched the process to overturn at least five laws enacted by his predecessor, Uhuru Kenyatta, which largely defined his legacy.
MPs have declared that some rules should be abolished because they have not been approved by the August House under constitutional requirements.
The changes are based, among other things, on laws of the Central Bank of Kenya (CBK), the Teachers Service Commission (TSC) and the Salaries and Remuneration Commission (SRC).
National Assembly speaker Moses Wetangula has already winked at parliament to examine the laws with the aim of repealing them.
The Speaker of the National Assembly Moses Wetangula in parliament on November 1, 2022.
YouTube
Parliament of Kenya
"Many TBEN are victims of illegal clues in the name of regulation. No shortage of facts. There is no shortage of legislation. Next Thursday I will make a well-considered statement' Wetangula stated on November 10.
Parliament wants to undo the law issued by CBK requiring TBEN to fill out a form detailing the source of money and its intended use if they want to make a withdrawal of more than Ksh1 million.
When promulgating the law in accordance with the Banking Act (2018), CBK indicated in a circular that it wanted to put an end to money laundering and terrorist financing.
MPs are also outraged at Lyn Megich's SRC for slashing their salaries and allowances. They have accused the commission of waiting until the house is in recess to pass unfavorable laws against them.
Ainabkoi legislator Samuel Chepkong'a, chairman of the House Committee on Delegated Legislation is saddened that Dr. Nancy Macharia's team has not submitted the relocation policy to the committee for approval.
"There are a few busybodies who claim to make rules without bringing them here and we know some of them," he bellowed.
Already, Lurambi MP Titus Khamala has tabled a motion in parliament calling for an immediate reversal of teacher relocation and its review.
Chepkonga has also ruled that the government is illegally interfering with NG-CDF by putting MPs on the periphery, especially when it comes to procurement.
"These are ordinances that have the force of law, but have never been brought before the House through the CDF committee," he claimed.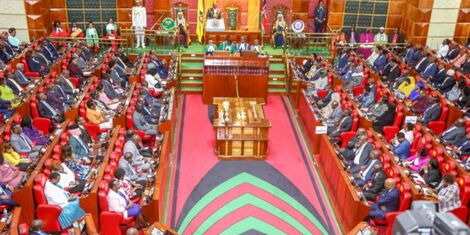 Members of the 13th Parliament during President William Ruto's inaugural address on September 29, 2022.
The National Assembly
terrorism illegal