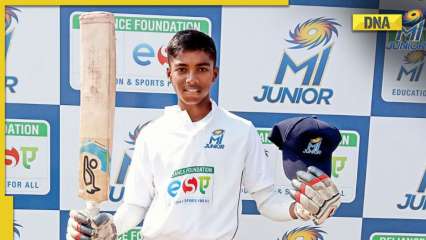 A budding 13-year-old Maharashtra cricketer has broken a huge national record with an incredible knockout of 508 not out in 178 balls. He also became the 10th batsman in cricket history to score over 500 runs.
Chawde broke the record for inter-school cricket tournament in a limited number of teams in India on Friday when he played for Saraswati Vidyalaya in the Mumbai Indians' Junior Inter-School (Under-14) cricket cup. Playing against Siddheshwar Vidyalaya at the Jhulelal Institute of Technology ground in Nagpur, Chawde scored an unbeaten 508 with 81 fours and 18 maximums.
Chawde joins 4 other Indian batters in this elite list. He joins Pranav Dhanawade (1009 not out), Priyanshu Moliya (556 not out), Prithvi Shaw (546) and Dady Havewala (515).
Yash Chawde

Paltan, yes you read that right! Yash from Saraswati Vidyalaya, Nagpur achieved this huge score in the U14 category of #MIJunior

Here are some more of our prodigies from the tournament #A family #DilKholKe #Mumbai Indians pic.twitter.com/2npBWAprZ6

— Mumbai Indians (@mipaltan) January 13, 2023
Chawde also broke the record for highest partnership, making 714 runs in 40 overs alongside fellow batsman Tilak Wakode (127 off 97 balls). Chawde is only the second player to make 500 runs in the form of limited overs cricket, the first being Sri Lankan batsman Chirath Selleperuma who scored 553 in the Under-15 inter-school tournament in August 2022, a prominent statistician said.
13-year-old Yash Chawde has been a breakout star this season in the U-16 VCA tournament, scoring 1,000 points in two centuries. Chawde, son of a midday meal contractor, was led to cricket by his father.
According to his school's supervisor, the young cricketer has the talent to achieve great things in the game. He is said to be disciplined and to have a good cricketing mind. Kulkarni praised his body language and called Chawde a 'lambi race ka ghoda'. Interestingly, Chawde's first love is not cricket. He enjoys skating and has also competed in national and national tournaments in the sport.
READ | 'He feels he has been cheated': Aakash Chopra on Sarfaraz Khan's omission from India's test squad against Australia