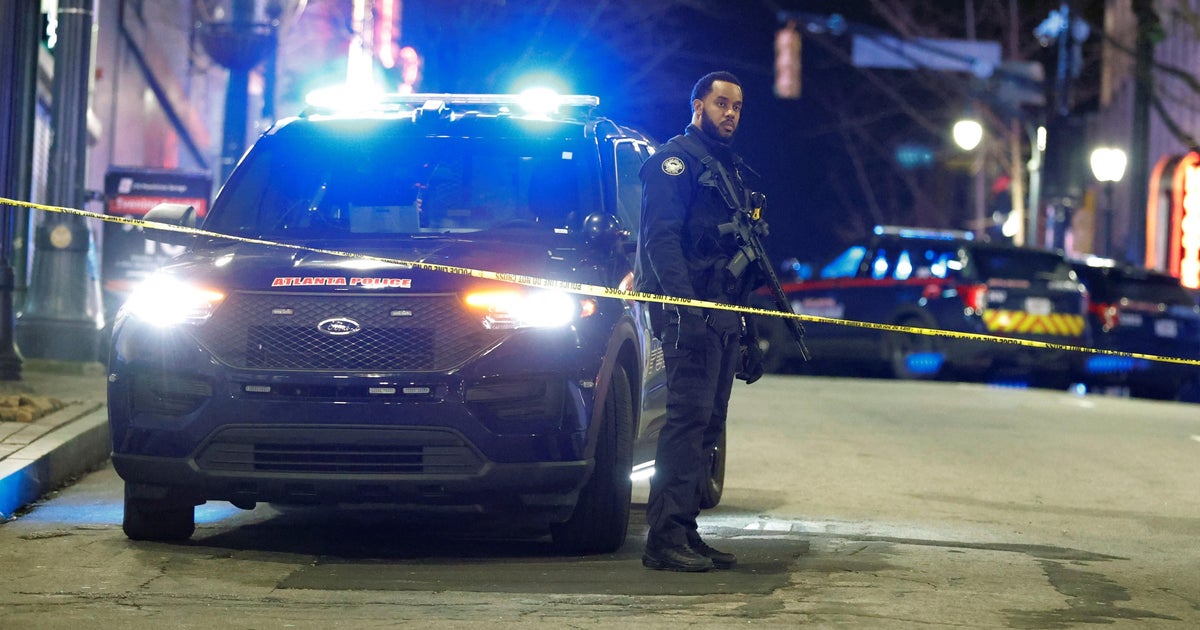 (CNN) — Six people were arrested Saturday night in downtown Atlanta, authorities said, amid protests that came in response to a proposed police training facility and the fatal shooting of an activist by police earlier this week.
The protesters marched in a "peaceful manner" down a street in downtown Atlanta, but a group in the crowd later "committed illegal acts," including breaking windows and attacking police cars, the Atlanta police chief said. Darin Schierbaum, at a press conference.
Police arrested six people and are further investigating whether others were involved in illegal activities, the chief said. Three businesses suffered damage to their windows, he added.
Social media footage showed a police car on fire downtown and video from CNN affiliate WANF showed broken windows at a bank in Wells Fargo.
The protests come in response to a planned $90 million 85-acre law enforcement training facility — dubbed "Cop City" by its detractors — and just days after the police killing of 26-year-old activist Manuel Esteban Paez Terán near the site of the training center.
Wednesday's killing was "indicative of a level of extreme police escalation," said Sean Wolters, who works within the broad coalition of the "Defend the Atlanta Forest" movement, which opposes the facility.
Saturday's protests were designed to highlight the Atlanta Police Foundation and some of its affiliated entities, Wolters said.
"Why are we even talking about a few windows when we should be focusing on (Terán's) life and what he stood for and independently investigating what happened to him?" Wolters told CNN by telephone on Sunday morning.
Some of the people arrested on Saturday "have already been involved in other criminal activities and are involved in a way to discourage the construction of the public safety training center," police chief Schierbaum said.
"My message is simple to those who want to continue this type of criminal behavior," Mayor Andre Dickens said at the press conference. "We will find you and we will arrest you and you will be held accountable." Dickens was one of the city councilors who voted in favor of the training center in 2021.
Government of Georgia, Brian Kemp said on Twitter "Violence and unlawful destruction of property are not acts of protest. They are crimes that will not be tolerated in Georgia and will be fully prosecuted."
At the press conference, Dickens said many of those arrested "don't even live in Atlanta or the state of Georgia" and some were found "with explosives."
Wolters told CNN that there are people in the US who have traveled to the state to join the protests against the planned training facility and that it is "their constitutional right to do so."
Mother of murdered activist feels angry and 'powerless'
The deadly police shooting of the activist took place Wednesday morning, during what authorities say was a cleanup operation to remove people from the site of the future facility. Opponents of the center camped in the area for months in an attempt to halt construction.
The Georgia Bureau of Investigation said law enforcement officers saw a person in a tent in the woods and gave verbal orders, but the person allegedly disobeyed and shot a Georgia State Patrol soldier, according to a press release.
Officers returned fire, fatally wounding the person. A gun recovered from the individual's possession matched the projectile from the trooper's wound, the GBI said.
Activists associated with movements protesting the facility, which challenge the law enforcement bill, said Terán was a "forest defender" committed to fighting environmental racism. Local justice groups said Terán, known as Tortuguita and who identified as non-binary, was a "sweet, warm, very smart and caring" person.
"It's a very difficult time emotionally," said Wolters of the foresters movement. "Tortuguita was a very dedicated forest defender and very brave, so a lot of people are still grieving," Wolters said, adding that there have been vigils for the activist at locations across the US in recent days.
Terán's mother told CNN by phone Saturday night that she felt angry and powerless over Terán's death.
Speaking from Panamá City, Panamá, Belkis Terán expressed disbelief in the police's account of the incident, saying, "I know they said he fired first, but I don't believe it."
"He was attacked," she added.
The mother said that while the police said that Terán had a gun, she did not know that the activist had one and that, "if he had one, it was to protect himself from the animals in the forest. That is what I understand."
"He wasn't a violent person. He was a pacifist. He told me that all the time. 'I'm a pacifist.' He wouldn't even kill an animal," Belkis Terán told CNN. "Tortuguita," the nickname Terán was given, was because of their love of turtle conservation, the mother said.
She described Terán as a generous, "sweet soul" who always helped others from an early age.
Authorities will not identify the trooper
The injured trooper was taken to a local hospital for surgery and was in stable condition Wednesday evening, authorities said. The Georgia Department of Public Safety said it will not release the trooper's name because "disclosure would compromise security against criminal or terrorist acts resulting from retaliation."
In addition, the GBI said it found and removed about 25 campsites during its cleanup operation on Wednesday and arrested and charged seven people with domestic terrorism and criminal offences.
Authorities recovered "mortar-style firecrackers, multi-edge weapons, bullet guns, gas masks and a flashlight."
A controversial provision
The Atlanta Police Foundation has said the planned training center is needed to boost morale and recruiting efforts, and previous facilities used by law enforcement have been substandard.
But the facility, which will include a shooting range, mock city and burning building, has been met with fierce opposition.
While some critics of the project see it as a response to the 2020 protests against police brutality and racial injustice, city leaders have said the center will also help with police reform, but have not provided further details.
Some residents have accused the city of blinding neighbors with what they say has been a largely secret development process with little community input. Taxpayers will pay about $30 million of the cost of the facility, with the remainder coming from private philanthropic and corporate donations, city officials have said.
And activists have also long raised concerns about the environmental impact of the project: The training center would carve out and shred a swath of forested land in what local advocates say will become a network of connected green spaces in parts of Atlanta and DeKalb County.