Nakuru County Governor Susan Kihika clashed with more than 600 casual workers after she unceremoniously fired them on Jan. 1.
While protesting outside the district offices on Monday, January 9, the 605 workers contacted the national government, particularly the Senate, to intervene and help them get their jobs back.
The workers described their suffering and most claimed that they had already accumulated huge debts after being laid off without pay.
"Some of us have been locked out by landlords. Others were fired without pay and without notice.
Susan Kihika takes her oath as Governor of Nakuru in Nakuru on August 25, 2022
TBEN.co.ke
"Our governor, please hear our cry. Some of us had even worked for five months without being paid," they complained.
The protesters also complained of being neglected by the district boss, who promised to stand by them if they voted for her in August's general election.
"I worked for Nakuru County for 9 years. You promised us to vote for you so that you could consider us, but now we suffer.
"We were fired on January 1. Instead of celebrating the New Year, we cried," complained Susan Wangari, one of the victims.
The workers therefore asked the governor to rehire them and to offer them new permanent and pension terms.
"We beg Kihika to think about this and take these employees back and confirm them as permanent and with retirement terms," they pleaded..
Most casual workers have worked in Nakuru County under successive governments. Some were employed by the first governor Kinuthia Mbugua, while others belonged to former governor Lee Kinyanjui.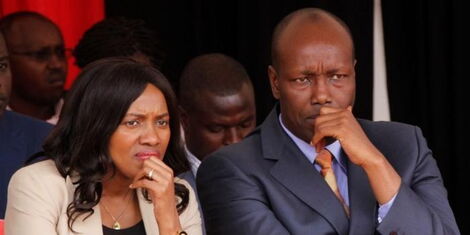 Nakuru Governor Susan Kihika (left) and former Nakuru Governor Lee Kinyanjui (right) at a past event.
The standard