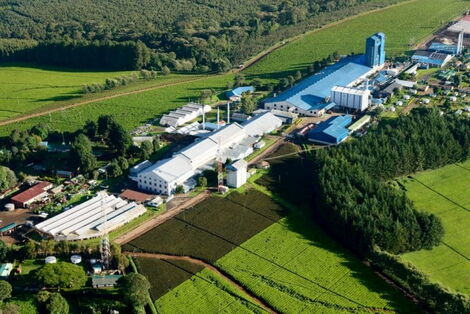 Kericho-based James Finlay Tea has announced that it will drop 719 of its employees by the end of the year.
In a notice written by the firm's human resources manager on Friday, November 20, employees were informed that their current mandate would end on December 31, 2020.
"This redundancy is the result of a difficult business environment caused, among other things, by low tea prices, low demand for various products and increased external costs," we can read in part.
"In view of these elements and in order to remain sustainable, we have restructured some of our operations, which made certain roles redundant," he continues.
James Finlay tea estate in Kenya.
This is the second time in a year that the British multinational has announced massive layoffs.
On October 21, the company announced it would close two of its flower farms – Chemirei and Tarakwet in County Kericho.
This left 1,700 workers unemployed, with the multinational company citing high labor costs and poor prices as the reason for the shutdown.
Following the latest job cuts, the company has announced that affected employees will be appropriately informed with details of what is payable, as specified in the collective agreement.
"We will also endeavor to provide the employees concerned with appropriate support, including access to our consulting services until their departure," explained the head of human resources.
Kenya's tea industry has experienced a steady decline in recent years.
On September 21, the Kenya Tea Development Agency (KTDA) struggled to explain how they calculated this year's second payment rate for bonuses.
Senator Nyeri, Ephraim Maina, said on Saturday that the farmers had shouted and cried about the low premiums, hence the responsibility of KTDA, as a public body.
He further called for shipping new tea regulations so that farmers can benefit and prevent the industry from collapsing.
"I would ask the government to try to finance the tea sector, which has not completely collapsed, to ensure that it is saved from a total collapse like the one seen in the coffee sector," a- he advised.
2020 has been a difficult year for employees, with massive layoffs recorded across all sectors.
According to the Kenya Employers' Federation (FKE), a total of 604 companies in Kenya have sent workers home due to the economic shock of the coronavirus.
Kenya's National Bureau of Statistics estimated that around 1.7 million people were made redundant due to the outbreak during that time, a figure the FKE called conservative.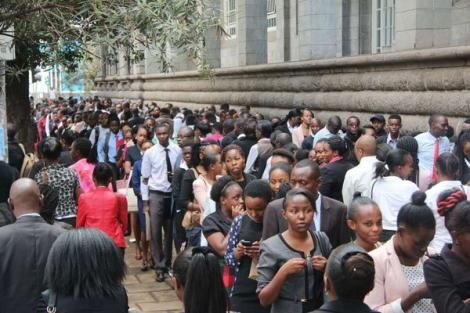 Job seekers line up on Wabera Street, Nairobi, waiting to be interviewed by Sarova Stanley on May 26, 2018.
Facebook