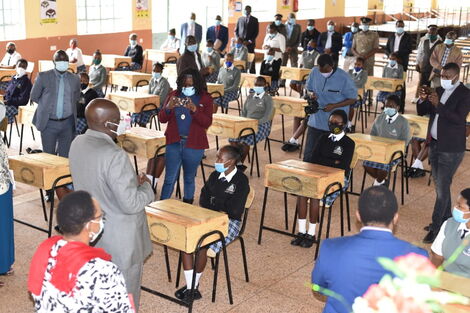 A Baringo County Form 3 student was charged with the heavy responsibility of inheriting three wives and 15 children.
Korkor Ripotolim was given the responsibility of looking after the three wives and children following the death of his brother Namwama Cherem.
This is in line with the Pokot culture which also prescribes the division of property left by the deceased, the settlement of debts left behind, the inheritance of the deceased's wife and the care of children.
George Magoha, Secretary of the Education Cabinet, at a school in Nyeri, October 28, 2020.
File
"We were two brothers, he was the oldest. He left three wives and 15 children, and in our culture we cannot let women go back to their parents. The next brother is responsible for inheriting wives and children.
"I am still in school and I cannot afford to provide for the needs of women and children. I would like women to be helped and have a source of income, "he explained.
Korkor's brother was a Pokot warrior and led a group of other warriors in raids in the nearby community.
Korkor, who is a student at Tangulbei High School, asked his late brother to meet most of his needs, including school fees, and now finds himself with the heavy task of providing for the whole family.
With schools set to reopen in January 2021, Korkor doubts he will resume classes due to the burden on him.
"I ask for help because I'm still young and going to school. I do not have a job to be able to provide for the needs of women and children, most of whom are still young.
"I don't know who will take care of them because some are in school and therefore require tuition fees. I also have to go to school," noted Ripotolim.
At a young age of 16, Korkor is now ready to play the role of a father and husband to the wives and children of the late brother.
Watch the video below: