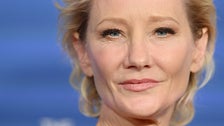 Anne Heche, the Emmy-winning actor whose film roles include 1998's "Six Days Seven Nights" and 1997's "Donnie Brasco," suffered serious injuries Friday when her car crashed into a Los Angeles home, according to multiple news reports.
Nearly 60 firefighters arrived on the scene and extinguished the fire after an hour, the fire service said.
Witnesses said the actor, who initially appeared to crash into an apartment complex garage, left that site and drove off again, TMZ reports said.
Another clip shows first responders driving a fully-covered stretcher into an ambulance, but then a woman pushes herself out of the bag and begins to sit up.
TMZ also posted a photo of Heche in the car, along with a red-capped bottle in her cup holder.
Sources told TMZ that Heche's condition prevented doctors from determining if she was under the influence of alcohol while driving the Mini Cooper.
The Bharat Express News has reached out to Heche's representative for comment.