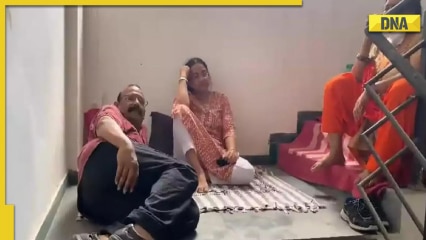 The couple owns a 15th floor flat in Shri Radha Sky Garden Society in Sector 16B of Greater Noida
An elderly couple engaged in a property fight with their tenant finally moved into their home on Friday after spending 10 days on the stairs outside their own flat in an upscale community in Greater Noida.
When their female tenant refused to leave the flat, the couple had to spend the night outside. The couple has premises in Sector 16B on the 15th floor of the Shri Radha Sky Garden Society.
Sunil Kumar, who is in his 60s, retired from a government unit in Mumbai in March after living in the city for more than 30 years with his wife Rakhi Gupta.
They have chosen to let the flat to the tenant for 11 months from July 11 last year after ownership in 2021. The building has about 2,000 units and at least 1,000 residents live there.
कितनी बदनाशीबी है हमारी खुद का घर स्काई गार्डेन T-5 F-1505 होते हुए भी हम अपने घर मे सेवानिवृत होने के बाद एक गुंडा प्रवृत्त की टेनंट प्रीति गुप्ता की वजह से नही एंटर कर पा रहे है@dmgbnagar @noidapolitie @nefowaoffice @abhishek_nefowa @SGrenowest @GreaterNoidaW @coprajaneesh pic.twitter.com/kYVb20PwDW— Rakhi gupta (@Rakhigupta75) July 25, 2022
However, the tenant still has to get her things out of the house and has requested an extra day for this. Her request was granted by the couple.
Sunil Kumar and Rakhi Gupta, an elderly couple, arrived in Greater Noida from Mumbai on July 19, hoping to finally settle in the city on their property in Sector 16B.
Despite the lease having expired, the tenant refused to leave the apartment.
Rakhi and her sister, who also lives in the same apartment complex, met the tenant on July 19. "We have informed the tenant that our belongings can be delivered to us at any time and that we are willing to assist her in leaving at least one room, if not the whole house, as she promised." She replied that she already had staff to help her with the transfer so we were reassured. However, she informed us two hours later that she would not allow our belongings in the unit because she had certain valuables inside. "Our truck had already arrived and was parked outside the complex, and we explained the problem to her, but she refused to move," Gupta claimed.
The couple claimed they approached the police, but they were of no help. Later, the couple approached the subdistrict court.
According to Umesh Bahadur Singh, Station House Officer of Bisrakh Police Station, Noida Police, the couple has applied to the complex several times. "Over the past week, a police team has visited the complex many times to help resolve concerns between the two sides." "We have listened to both sides and asked them to come up with a solution," Singh added.
"The case was resolved with the intervention of the police and the help of complex residents." The tenant has not been forcibly evicted…" said Ranvijay Singh, Additional Deputy Police Commissioner, Noida.