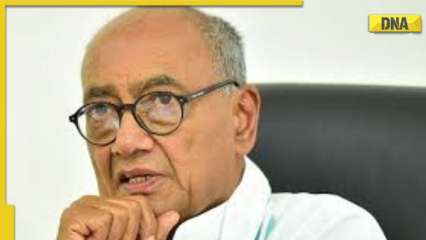 After arguing over surgical strike comments, Digvijaya Singh tries to do damage control
Amid an ongoing spat over Congress leader Digvijaya Singh questioning the authenticity of the 2019 surgical strikes, agitated party leader Jairam Ramesh lashed out at the media on Tuesday, saying everything that needed to be said had already been done and questions would now be asked. must be stated. at the prime minister.
A day after Mr. Singh sparked controversy and Congress distanced itself from his remarks, Mr. to direct her questions to Prime Minister Narendra Modi.
Mr. Singh, who tried to end the row, also said, "I have the utmost respect for the armed forces" as the leaders marched along with other padayatris.
The Bharat Jodo Yatra led by Rahul Gandhi resumed on Tuesday from Sitni, Nagrota Bypass in Jammu and Kashmir.
Mr Ramesh refrained from answering questions, saying: "We have answered all questions."
"The congressional party has said whatever it wanted. I tweeted about that yesterday. I don't want to say anything but this," he said.
Mr Ramesh took to Twitter claiming that even the UPA government had carried out surgical strikes.
"Senior leader Digvijaya Singh's views are his own and do not reflect the position of Congress. Surgical strikes were carried out by the UPA government prior to 2014. Congress has supported and will continue to support all military actions in the national interest .' Mr Ramesh tweeted.
Read also: The US State Department closes a question from a Pakistani journalist about TBEN documentary about Prime Minister Modi
This comes after Digvijaya Singh said there is no evidence of the 2019 surgical attack on Pakistan, while the center claims to have carried out the attack.
"They (Centre) are talking about surgical strikes and that they killed so many, but there is no evidence," Digvijaya Singh said in his speech in Jammu on Monday.
On 14 February 2019, a Central Reserve Police Force (CRPF) convoy was attacked by terrorists in Pulwama in Kashmir, killing 44 soldiers. On February 26, 2019, Indian Air Force fighter jets fell back on an advanced terror training camp run by Jaish-e-Mohammed in Balakot, Pakistan.
The day after, Islamabad attempted to attack Indian military installations but was thwarted by the IAF.
The BJP has claimed that the opposition party is "blindsided" by its "hatred" towards Prime Minister Narendra Modi and has "insulted" the armed forces, adding that such statements are being made at the behest of the top Congress leadership.
BJP national spokesman Gaurav Bhatia said it has become a "character" of the Congress to make "irresponsible remarks".
Union Minister Jyotiraditya Scindia listed Mr Singh's alleged controversies and said he has added "one more to his list of anti-national activities".
Political analyst and Congress supporter Tehseen Poonawalla was deeply impressed by Mr Singh's comment that it was an "own goal" for the party. He said these are "the same" people who keep doing the same things that "destroy" the party.
"The same people keep doing the same things and scoring self-goals. On the one hand, the Honorable Prime Minister names 21 islands after the islands adorned with #ParamVirChakra and on the other hand, #ParakramDivas questions surgical strikes? It is the same people, every come back, who ruin the party!" he said in the tweet.
Mr Poonawala, who further questioned Mr Singh's remarks, said Lieutenant General Hooda, who ordered the surgical strikes, had joined the Congress.
"Lt. Gen. Hooda who carried out the surgical strikes joined the Congress! Today is #ParakramDivas! Why would anyone speak of #surgicalstrike at such a time! Not the first time these self targets are scored!! #BharatJodoYatra ," he continued in the tweet.
(Source: ANI)