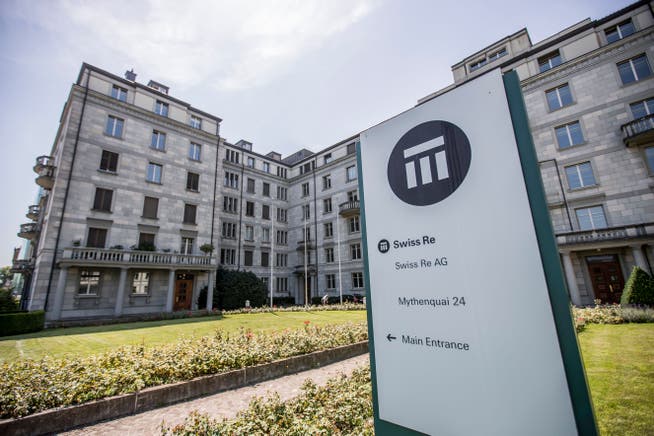 reinsurer

After divers in the first quarter: Swiss Re is back in the black
In the middle of the year, the reinsurer Swiss Re can report a return to profitability. However, the profit is significantly lower than a year ago.
The ongoing pandemic, uncertainties on the financial markets and the war in Ukraine: these are not particularly good times for a reinsurer. Nevertheless: After a sluggish start to the year in the red, Swiss Re is returning to the black. The company reported on Friday a profit of 157 million US dollars for the first six months of the year. Compared to the previous year, however, this is a sharp decline: in the first half of 2021, Swiss Re was able to post a profit of around $1 billion.
As a result of the global political uncertainties, Swiss Re had already made provisions in the amount of 283 million dollars in the first quarter. For CEO Christian Mumenthaler, the Russian invasion of Ukraine was a "shock". The group has therefore decided to «form prudent provisions for possible effects of the war». In the second quarter, these provisions were not increased, as Swiss Re reports.
Dependent on the financial markets
Net premiums earned and fee income increased. These grew by 1.9 percent to 21.2 billion dollars. The combined ratio was 98.5 percent in the first half of 2022. For the rest of the year, CEO Christian Mumenthaler is optimistic: "Thanks to the measures we have taken in recent years, all our business areas are well positioned and focused on achieving their segment targets for the year." However, the fulfillment of these is dependent on the development of the financial markets and any major claims.
Last year, on the other hand, Swiss Re ran like clockwork: Swiss Re made a profit of 1.4 billion dollars in 2021 – despite numerous natural disasters and the corona crisis. Without the pandemic, profits would have increased by 39 percent to three billion dollars. The return on equity was 5.7 percent. When the annual figures were announced, the globally active Swiss group announced that it intended to increase them to 10 percent in the current year. (rwa/mg)