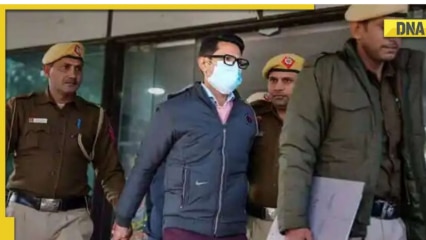 Air India pee-gate: Shankar Mishra claims victim urinated herself while she is a dancer, study says otherwise
Shankar Mishra, a fired bank executive accused of urinating on an elderly female passenger on a flight from New York to New Delhi, told the Delhi court that she "urinated on herself" while dismissing the charges.
Mishra's lawyer told the court: "The prosecutor's chair was blocked. It was not possible for him (Mishra) to go there. She peed on herself."
She is a Kathak dancer, 80 percent of Kathak dancers have this problem, he went on to say.
According to a Science Alert study on urinary incontinence screening in female dancers – a cross-sectional study, dancers' health problems deserve attention for several reasons; firstly, because most dancers start training at a young age, there is the potential for a major impact on their future health; second; the interplay of physical and aesthetic demands in dance can lead to several health problems that are especially relevant for dancers.
The aim of the study was to find the correlation between the type of dance, the intensity of the dance and the BMI of dancers and that of urinary incontinence.
(Read also: IMD Cold Wave Alert: Delhi Temperature Likely To Hit Zero, Gurugram -1 Degree Celsius)
According to the World Health Organization (WHO), urinary incontinence is a "widespread global disease and one of the last medical taboos for many people," the study said.
The study took an unrestricted sample of female dancers, ages 18 to 25, who practice a variety of dance styles in recreational, competitive centers and physical therapy units and screened for UI over a six-month period.
According to the results, a total of 124 women screened, of which 62 subjects were dancers and 62 were non-dancers (age-dependent control) and 14 female dancers (22.5%) reported leakage of urine while participating in their various dance forms.
Hip hop had the highest incidence of incontinence (about 50%), followed by Bharatnatyam (28%) and Kathak (12.5%).
The study found that 22.5% of the dancers suffered from urinary incontinence and that urinary incontinence was positively correlated with the dancers' BMI and exercise duration.
The lawyer accused the complainant of urinating on herself, who was a Kathak dancer and 80% of Kathak dancers have the problem of urinary incontinence. The study proves the opposite.
A court hearing the appeal of the Delhi Police against a magistrate's January 7 decision denying Mishra custody while they presented their arguments.
While not always practical, the Sessions Court judge acknowledged that it is possible to move from one side of the plane to the other.