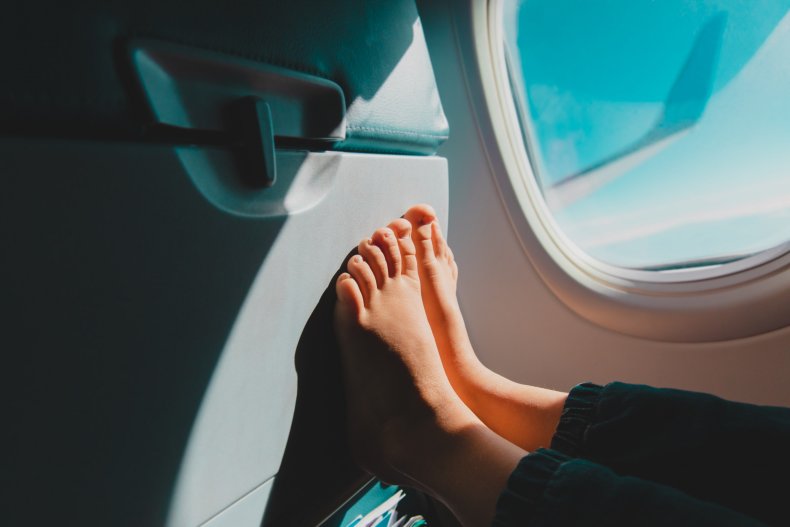 A video of a barefoot closing the curtain of an airplane window during a Southwest Airlines flight has gone viral on TikTok.
The short clip, which had 1.7 million likes at the time of writing, was shared with the caption: "THIS WON'T HAPPEN [crying, laughing emojis] @Southwest Airlines HELP."
The video shows a foot sticking out of the side of a passenger seat before reaching for the window of the seat behind it.
With its toes, the foot slides down the window curtain before extending forward toward the armrest of the seat next to the window. The video then moves to a giggling neighboring passenger before the foot later returns to his seat.
According to a 2019 study on airplane and hotel etiquette, Americans are said to have a "global dislike" (78 percent of those surveyed) for passengers who board an airplane barefoot. The survey was commissioned by the travel booking website Expedia and included 18,237 respondents in 23 countries,
Concerns about health and hygiene were "presumably" the reasons for this extreme distaste, with "the germ-spreader" being the most annoying type of airline passenger for Americans, the study said.
Below are the top five most annoying flight passengers for Americans, according to the 2019 Expedia survey:
The Germ Spreader (40 percent of Americans)
The Seat Kicker/Bumper/Grabber (36 percent)
The drunk passenger (35 percent)
The aromatic passenger (32 percent)
The inattentive parent (30 percent)
The study also found that "Americans are some of the nicest and most considerate travelers in the world," scoring above the global average in terms of "courtesy or acts of kindness to fellow travelers."
The viral TikTok post amused and confused, but also shocked, users on the video-sharing platform.
In a comment that garnered over 124,400 likes at the time of writing, user Kimy wrote, "That's literally better off someone you know [upside-down smiley face emoji]', to which the original poster replied, 'why would someone I know do this? [crying, laughing emojis.] I would cry in public," in a comment that received 88,000 likes.
In a comment that got 11,100 likes, Rey wrote: "How can you recover from that? [frowning face emoji]."
User [email protected] wrote "I would be sick" while user "heyyy" said "NO I'M EATING [crying floods of tears emoji]."
User Kanoa said "I'm already sobbing at this and it didn't even happen to me" while pimneappler wrote "I'm really crying crying [crying floods of tears emojis]."
Some users were not convinced that the incident was real.
In a comment that got 117,900 likes, user Violet said, "I can't tell if this is a joke or not [crying floods of tears emoji] closing the window is one thing, but why does it reach for you."
User Nicholas Smith said "I refuse to believe this is real" in a comment that got 419 likes.
News week contacted the original poster for comment.