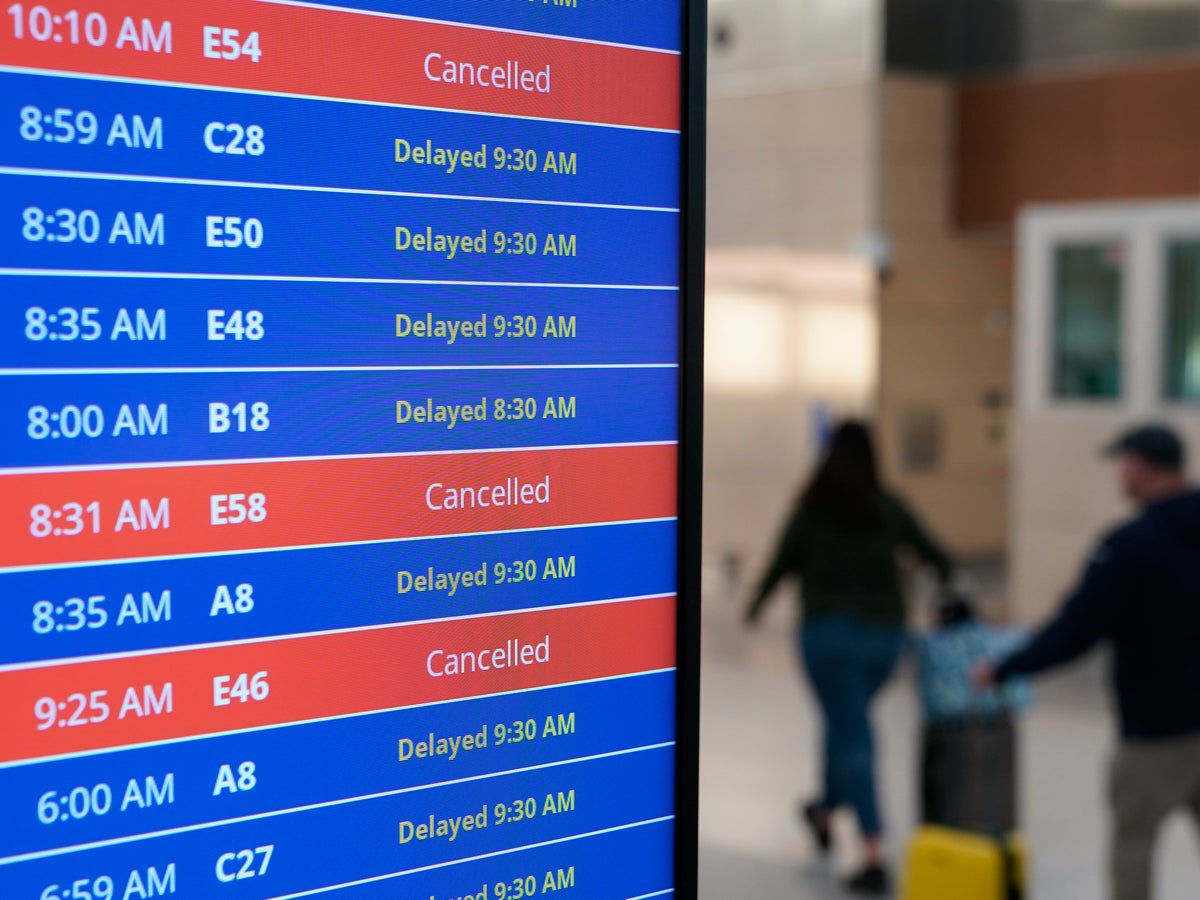 FAA lifts grounding orders following computer failure
The Federal Aviation Administration has lifted the suspension of all departing domestic US flights following a major IT outage.
A key system used to notify pilots and ground crew of hazards and warnings suffered a "major outage" earlier today, with FAA technicians frantically trying to fix the problem after the outage led to a nationwide ground shutdown.
The fault lay with the NOTAM (Notice to Air Missions) system, which keeps pilots and other airport personnel informed of aviation hazards and airport facilities.
It stopped processing information this morning, forcing flights to be temporarily suspended.
However, in its latest statement, the FAA said the ground stop "has been lifted."
"Normal air traffic operations are gradually resuming in the United States following a nighttime failure of the FAA's Notice to Air Missions (NOTAM) system that provides safety information to flight crews," it added.
According to FlightAware, airlines are now struggling to get their operations back on track with more than 7,300 delayed flights and more than 1,100 cancellations at airports across the US. Most airlines waive charges for passengers to rebook their travel.
Crossing the border in Canada later on Wednesday, the same system also faltered but was quickly restored.
1673471667
More than 10,000 flights affected by disruption
At 4 p.m. ET, the total number of flights affected by the FAA outage exceeded 10,000.
According to FlightAware, the total number of delayed flights within, to or from the US was 8,783, while the total number of cancellations was 1,276.
Nevertheless, the FlightAware MiseryMap showed some improvement. Most airports that had previously recorded delays or cancellations for more than three-quarters of their flights had improved to about half of their flights. There are still notable problems in Charlotte, the DC area, and in Denver.
Oliver O'ConnellJanuary 11, 2023 9:14 PM
1673471402
Flight Delayed or Canceled Due to FAA System Failure? Experts share some advice
Thousands of travelers were stranded at US airports on Wednesday after hours of computer failure at the Federal Aviation Administration.
More than 1,000 US flights were canceled early in the day and nearly 7,000 flights were delayed, according to tracking site FlightAware. That number continued to rise in the afternoon.
Staying calm and knowing your rights can go a long way if your flight plans are disrupted, experts say.
Here's some of their advice for dealing with a flight delay or cancellation:
Oliver O'ConnellJanuary 11, 2023 9:10 PM
1673470561
White House is behind Buttigieg
The president "respects the secretary and the work he has done" in holding airlines accountable, White House press secretary Karine Jean-Pierre told reporters on Jan. 11.
Oliver O'ConnellJanuary 11, 2023 8:56 PM
1673469602
Canada is suffering from the same mysterious air system breakdown as the US
Canada's air traffic system experienced a brief outage similar to that in the US for a brief period of time on Wednesday.
Air traffic in the US was severely disrupted by the failure of the Federal Aviation Administration's Notice to Air Missions (NOTAM) system on Tuesday night, forcing domestic aviation to come to a complete halt Wednesday morning.
Nav Canada, Canada's national air navigation service provider, issued a statement just after 12:30 a.m. as U.S. airlines struggled to resume normal service.
Oliver O'ConnellJanuary 11, 2023 8:40 PM
1673468402
Buttigieg says groundstop was 'right decision'
The source of the problem with a NOTAM system that warns pilots is unclear, but US officials said they had found no evidence of a cyberattack so far.
US Secretary of Transportation Pete Buttigieg told CNN that a problem with nighttime "irregularities" with safety messages sent to pilots was the cause of the outage.
He said the ground stop was the "right call" to ensure messages were sent correctly and there is no direct evidence of a cyber-attack.
The outage came at a typically sluggish post-holiday travel season, but demand remains strong as travel continues to recover to near pre-pandemic levels.
Oliver O'ConnellJanuary 11, 2023 8:20 PM
1673467451
The chairman of the parliamentary committee wants to know how this can be prevented in the future
Representative Sam Graves, chairman of the House Transportation and Infrastructure Committee, said he had many questions about the outage and resulting problems.
"I expect the FAA to provide a full briefing to members of Congress as soon as they learn more," he said.
Mr Graves added that he also expected the Transport Department to "give justice to the passengers it has wronged".
The commission, he said, wanted "to make sure we know what went wrong, who is responsible and how to prevent it in the future".
Oliver O'ConnellJanuary 11, 2023 8:04 PM
1673467022
Senate Commerce Committee investigates FAA computer malfunction
A U.S. Senate panel will investigate the cause of a malfunction in the Federal Aviation Administration's computer system that led to a nationwide ground halt and delayed or canceled more than 7,000 U.S. flights, Maria Cantwell, chair of the Senate Commerce Committee, said Wednesday.
The outage occurred Tuesday night and US flights slowly began to depart again on Wednesday.
"We will investigate what caused this outage and how redundancy plays a role in preventing future outages. The public needs a resilient air transportation system," said Ms Cantwell. The ground hold was lifted by the FAA shortly before 9 a.m. ET.
Many legislators from both sides urged action to avoid a future disruption.
Oliver O'ConnellJanuary 11, 2023 7:57 PM
1673465882
Boebert calls Buttigieg "clunky" and unqualified. Twitter responds.
Representative Lauren Boebert has lashed out at Secretary of Transportation Pete Buttigieg over the Federal Aviation Administration's decision to order a ground stop at US airports this morning.
The Colorado Republican legislator tweeted, "Every plane in America is currently grounded due to a system error."
"Mayor Pete, bravo," she added. "This is what happens when you hire ignorant liberals for jobs they aren't qualified to do."
Other Twitter users were unimpressed by Ms Boebert's prank on Mr Buttigieg, with many pointing out her own limited qualifications, accusing her of a cheap attack and calling her an attention seeker and con artist.
TV host and producer Andy Cohen responded, "Hiring an ignorant wingnut sure pays off for your constituents, you psychopath."
Oliver O'ConnellJanuary 11, 2023 7:38 PM
1673464742
Tired of airport disruptions? Why don't you try the train?
Oliver O'ConnellJanuary 11, 2023 7:19 PM
1673464202
Which airlines and airports have been most affected by the delays?
Major airlines, from most to least affected: Southwest (48 percent of flights delayed), American Airlines (44 percent), Spirit (40 percent), Delta (37 percent), United (36 percent), and JetBlue (31 percent). Airlines focused on the West Coast, such as Alaskan and Hawaiian, are showing modest delays, as the outage occurred at a time when they have a lower number of scheduled flights.
The worst affected airports for delays are Baltimore (49 percent of flights delayed); LaGuardia (44 percent); Atlanta, Chicago Midway and Orlando (39 percent); Denver and Nashville 37 percent; and Reagan National, Austin and Tampa (36 percent).
Almost every major airport has now delayed more than 25 percent of its flights.
If you are traveling today please check the status of your flight with your airline as airports will be busier than usual.
Oliver O'ConnellJanuary 11, 2023 7:10 PM