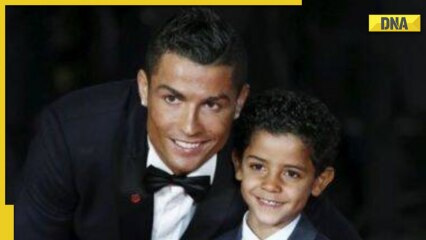 The highly anticipated football match between legends Cristiano Ronaldo and Lionel Messi ended in a thrilling show of skill between the two players, with Messi's PSG beating the Saudi All-Star XI (Al Nassr and Al Hilal) by a score of 5-4.
Despite losing the match, Cristiano Ronaldo became the man of the hour as he scored two goals against PSG, while French league players Messi and Kylian Mbappé scored one goal each in the match, taking their team to victory.
Considered one of the best players in international football, Cristiano Ronaldo made an explosive comeback on the pitch with his debut match against Saudi Arabian league team Al Nassr. Now it seems that his son is also after the football legend.
With rapidly growing football skills, Ronaldo's 12-year-old son Cristiano Ronaldo Jr has surpassed players in his own age group and looks set to follow in his father's footsteps. Here's everything you need to know about the Al Nassr player's son, Cristiano Ronaldo Jr.
Who is Cristiano Ronaldo Jr., Ronaldo's eldest child?

Cristiano Ronaldo's first child Cristiano Ronaldo Jr was born in June 2010 and is 12 years old. Born in the United States, Ronaldo Jr soon adopted his father and started making a career in football when he was just 10 years old.
Cristiano Ronaldo Jr. started playing football at youth level and was last seen in the Manchester United U-12 team, scoring an impressive tally of goals. At times he also played alongside Kai, the eldest son of Manchester United legend Wayne Rooney.
While Cristiano Ronaldo made his Saudi debut a few days ago with his new club Al Nassr, his son Ronaldo Jr was one step ahead as he had already started his training at the Mahd Academy, the national sports center in Saudi Arabia.
Ronaldo Jr joined Manchester United's Mahd Academy just as his father left the English club for Al Nassr. Ronaldo Jr has become one of the most sought after players and emerging young talent on the football field as he reportedly trains with 14 year olds just at the age of 12.
READ | 'The worst footballer..': Popular YouTuber makes SHOCKING claim about Argentina and PSG star Lionel Messi