ACH/USD is up 50% in one trading day
A descending wedge pattern supports the bullish case
The risk of a false breakout remains
The cryptocurrency market suffered from the FTX scandal as investors fled in the face of yet another industry scam. But despite many predictions that the industry will fail, the recent price action is encouraging for speculators.
Take Alchemy Pay (ACH) for example. It was the leading cryptocurrency yesterday as it gained about 50% against the US dollar.
Alchemy Pay is the pioneer of the world's first payment gateway solution to connect fiat currencies and crypto economies. In short, it aims to bridge the gap between crypto and fiat worlds.
With a circulating supply of 4.9 billion, the maximum supply of the cryptocurrency will be 10 billion. At the current market price, Alchemy Pay has a market cap of almost $60 million and more than 180 billion coins are traded daily.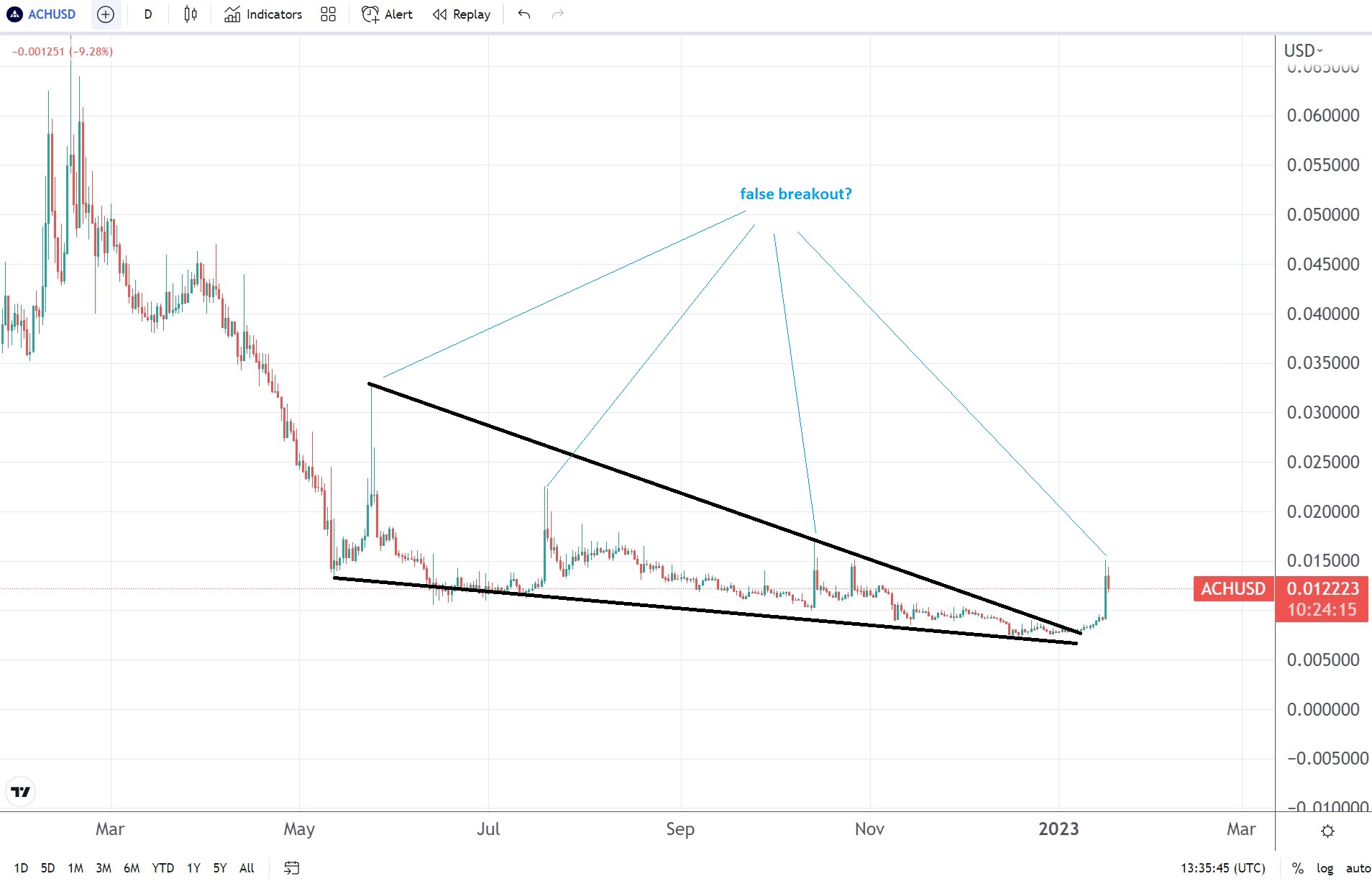 ACH/USD chart by TradingView
A falling wedge points to more upside, but fears of false breakouts remain
Until recently, ACH/USD has been trading on a heavy note, as has the overall cryptocurrency market. But the recent jump in Bitcoin and other major cryptocurrencies led to small coins getting a bid.
As such, the price action broke out of a falling wedge pattern. Such a pattern signals a reversal; usually the market follows more than half the distance of the pattern.
However, it doesn't mean the market can't hit a new low.
Therefore, any long trade should have a stop-loss order at the lowest point in the falling wedge, while the take-profit should be about half the distance the market traveled on its way down. In other words, 0.035 should be appropriate.
The fear is that yesterday's bounce is another false breakout. A quick look at what has happened in the past shows similar breakouts that turned out to be nothing but false as the market reversed and hit a new low.
In summary, if recent lows hold, ACH/USD has more upside potential.