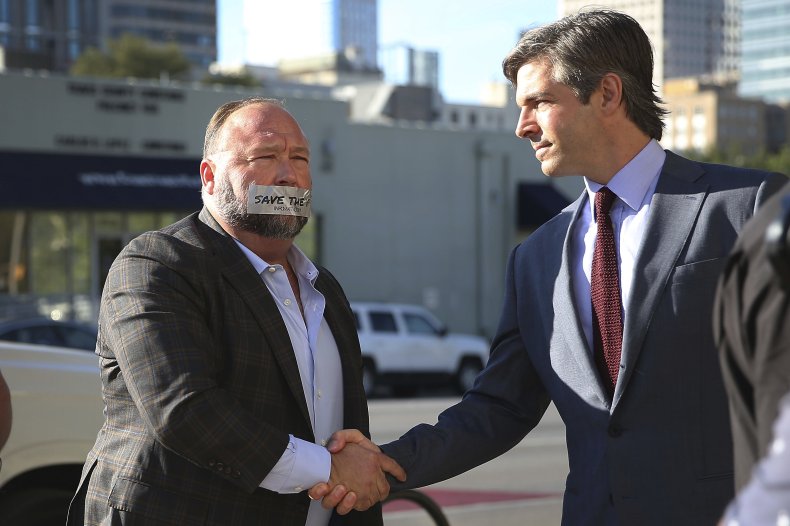 Conspiracy theorist and InfoWars host Alex Jones said he has gained sympathy and support at the courthouse where a lawsuit is underway to determine how much he should pay the parents of a child killed in the 2012 Sandy Hook Elementary massacre. School.
Jones was found liable last year in a lawsuit bought by the parents of a Sandy Hook victim after he falsely claimed the deadly school shooting was a hoax fabricated by gun control advocates.
He has since reversed his stance and admitted that the attack took place.
The Austin, Texas trial will determine how much Jones must pay for defaming Neil Heslin and Scarlett Lewis, whose six-year-old son, Jesse Lewis, was one of 20 children and six educators killed.
In a clip that has gone viral on Twitter, Jones says he was inundated with support in public places during the trial.
He said Travis County courthouse staff gave him punches, while people have also expressed support for him in cafes and supermarkets.
The clip, from a recent episode of Jones' show, was shared on Twitter on Saturday and has since been viewed more than 140,000 times.
"I've had the courthouse staff tell me, almost all of them. I walk by and talk to. 'We appreciate you. We understand what's happening. This is wrong. We're ashamed,'" Jones said.
"They blow us and my crew off with a fist. If I go to the little cafe next door during a break, they give us free food and waitresses kiss us on the cheeks and say, 'Hey, that New York Times reporter. came by and asked me if you drank alcohol [them] not you.' I mean, it's like Fight Club where it is."
Jones also said he had received support during a recent visit to a supermarket.
"I went to the supermarket yesterday," he said. "Shake 20 hands, probably 50 people walked. They all said, 'We're so sorry for what happened. It's wrong. Keep fighting. How do you take it?' I had crew members like a bunch of them who came to my office this morning to hug me."
Twitter users have been largely dismissive of Jones' anecdotes, with some comparing it to the exaggerated or false stories former President Donald Trump allegedly liked to tell.
"Sounds like a Trump story," one person tweeted.
Another added: "None of this happened naturally."
It comes as Jones' media company Free Speech Systems went bankrupt on Friday.
News week has contacted Jones' attorney for comment.