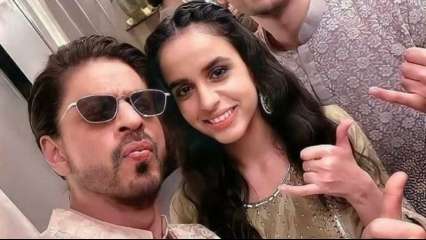 Bollywood actor Shah Rukh Khan, known as the "Baadshah" of the Indian film industry, has been going through a difficult time since his son Aryan Khan was arrested in a drug case in Mumbai. However, we have all seen how SRK has captured the hearts of people across the globe with their talent, hard work and dedication. And in the midst of his son's arrest, his fans keep praising him for his recent publicity. The latest Diwali ad by an FMCG company features SRK talking about the small businesses affected due to the coronavirus pandemic and how we all need to support them in this difficult time. However, what caught everyone's attention was the appearance of Shah Rukh Khan in the commercial. In the video, King Khan can be seen transforming into a brand ambassador for various local brands. He can be heard asking viewers to buy clothes, shoes, candy, gadgets, etc. in small stores. Celebrity photographer Viral Bhayani shared the behind-the-scenes photos from the commercial on Instagram and the photos are now going viral.
BTS photos from SRK's set have taken the social media space by storm and internet users can't help but praise the Bollywood superstar for not stepping down and continuing his usual activities, spreading love and joy. , in the midst of all the personal chaos. A number of fans commented on the post. One Instagram user wrote: "Wow cool! I love this SRK actor. Faithful husband of Gauri Khan despite being a global icon. Model! These days you can't find good 'ACTORS' like him. He is brilliant in his acting.
Another wrote: "They teach us that a lot of trouble comes in life, but we have to attract positive around us .. @iamsrk", while another commented: "The strongest man ever . " Another fan said: "I can't even imagine how much pain he is now… He doesn't deserve this at all. Working hard like anything, providing everything for his family… money, a big house, rather a palace, a foreign education… and now he faces this humiliation.
One of his fans claimed that SRK was a "very nice down to earth person". She wrote: "I met him personally when he came to San Francisco. She is a down to earth person with a very good heart. My mom almost fell and he helped her up at an event. Kind and very respectful human being.
On a personal level, Shah Rukh's son Aryan Khan was arrested by the Narcotics Control Bureau's team of detectives during the drug raid on a cruise ship on October 2. A total of 20 people, including two Nigerian nationals, have been arrested so far.
.