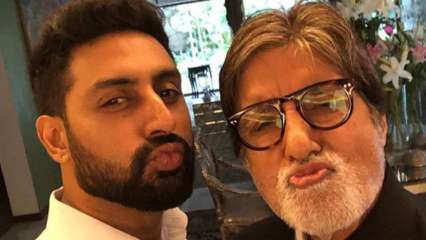 For the past few weeks, the megastar Amitabh Bachchan has been holding her fans in suspense, while wishing her son Abhishek Bachchan all the best for the release of "The Big Bull". Amitabh captioned all of his posts with a cryptic "remember WHTCTW". He has used the acronym in several of his recent articles featuring Abhishek.
Retweeting a tweet from Abhishek announcing the release time of 'The Big Bull' on Disney + Hotstar, Amitabh wrote: "remember bhaiyu WHTCTW .. !!"
Previously, Amitabh and Abhishek were scheduled to witness a clash with the release of " The Big Bull " on April 8 and the release of " Chehre " by Amitabh on April 9.
However, the release of 'Chehre' has been delayed indefinitely amid rising coronavirus cases,
'Chehre' producer Anand Pandit said in a statement: "Considering the situation and the safety of our audience and our fans, which is of the utmost importance to us, we have decided to postpone our film. Chehre. The team have gone to great lengths to make this a great cinematic experience and we look forward to our audiences making it into theaters safely. "
Besides Amitabh, the film also stars Emraan Hashmi, Rhea Chakraborty, Siddhanth Kapoor and Krystle D'Souza.
"The Big Bull" directed by Kookie Gulati is produced by Ajay Devgn and Anand Pandit. Kumar Mangat Pathak and Vikrant Sharma join forces as co-producers. The film is set to air exclusively for Disney + Hotstar VIP and Disney + Hotstar Premium subscribers on April 8, 2021.
" The Big Bull " is based on the story of Harshad Mehta, which before the film was shown onscreen by director Hansal Mehta in his web series " Scam 1992: The Harshad Mehta Story " starring Gujarati actor Pratik Gandhi.
.