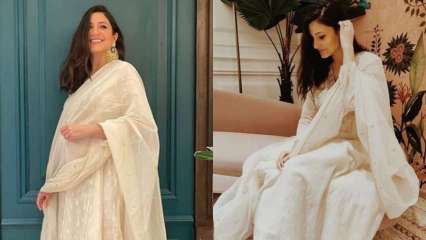 Mom-to-be Anushka Sharma, who shines more and more with each passing day, took her verified Instagram handle on Friday to give her fans another great photo of herself.
Dressed in a lilac Indian outfit – a salwar kamzeez paired with a dupatta – Anuhska exuded grace and radiance as she posed " candidly " for the capture, which was taken by none other than her father while the two were spending " chai time ". Her beaming smile was the highlight of the picture.
The actress completed her look with a stone bindi and lilac lip shadow, with no accessories and hair left open.
The city diva B, who is expecting her first child with her husband, cricketer Virat Kohli, wrote next to the photo: "When your dad takes your perfect picture of chai time and tells you to cut it out but you won't do it because – girl! (sic). "
Looked.
Earlier, on November 15, Anushka gave fans a preview of Diwali celebrations at her Mumbai residence.
The actress and mom-to-be shared photos on her Instagram Stories showing fans what the Diwali celebrations looked like at her home. Besides all the amazing decor of flowers and diya, you could also spot bottles of disinfectant that were made to be part of the decorations. Anushka also shared a series of solo photos of herself decked out for the Diwali celebrations.
The 'Pari' star dazzled in an elegant white outfit as she hid her baby bump using her beautiful dupatta. However, even here, her pregnancy glow wasn't something she could hide.
The actress-turned-producer paired her outfit with a matching white chudidaar, gold earrings, white and gold juttis and kept her hair open as she posed for the captures with a lovely smile on her face.
"I am fully dressed to sit at home and eat. And it was awesome. Hope you all had a nice Diwali, "Anushka wrote captioned.
Looked.
Anushka Sharma and Virat Kohli, who announced their pregnancy earlier this year, are expected to welcome their first child in January 2021.
.