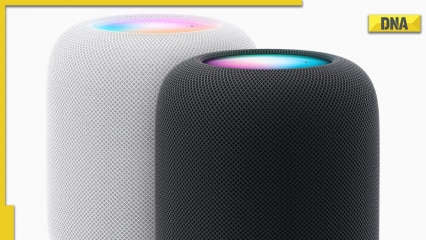 Apple has launched a new generation of Apple HomePod smart speaker with a new sensor and advanced computer audio. With the new Apple HomePod, users can create smart home automations using Siri, get notified when a smoke or carbon monoxide alarm is detected in their home, and monitor the temperature and humidity in a room. The new Apple HomePod is currently available for pre-orders and will go on sale from February 3.
2023 Apple HomePod: price and color options

Apple HomePod 2nd Generation is priced at Rs 32,900 in India and like the previous generation, the new HomePod will be offered in two colours: black and white.
2023 Apple HomePod: features
HomePod comes with a custom high-excursion woofer, a powerful motor that drives the 20mm diaphragm, a built-in bass EQ microphone, and a beam-forming array of five tweeters around the base all working together to deliver a powerful acoustic achieve experience. The S7 chip is combined with software and system sensing technology to provide even more advanced computer audio.
Sound Recognition allows HomePod to listen for smoke and carbon monoxide alarms and send a notification directly to the user's iPhone if a sound is detected. The new built-in temperature and humidity sensor can measure indoor environments, allowing users to create automations that close the blinds or turn on the fan automatically when a certain temperature is reached in a room.
HomePod can recognize up to six voices, so each member of the house can hear their personal playlists, ask for reminders, and set calendar events.