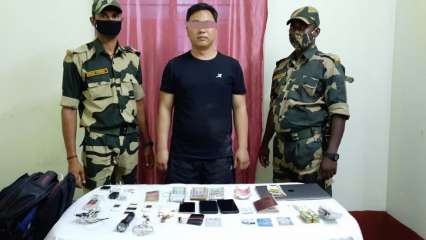 A day after the South Bengal Border Security Force (BSF) apprehended a Chinese national from Malda, it made startling revelations.
After several hours of rigorous interrogation, he admitted to having smuggled more than 1,300 Indian SIM cards obtained through false documents while hiding them in his underwear.
The smuggled SIM cards were then used in China to hack Indian accounts and commit other financial frauds in India.
The Chinese national identified as Han Junwei who was arrested Thursday at the Indo-Bangladesh border from Sultanpur to Malda as he was crossing to the Indian side was handed over to local police on Friday.
A statement from BSF South Bengal Frontier read: "Han Junwei has been a wanted criminal and after further questioning, shocking facts have emerged. He has so far taken around 1,300 Indian SIM cards to China using false documents from India. Junwei and his associates hid the SIM card in their underwear and sent them to China. These SIM cards have been used to hack into accounts and to perform several types of financial fraud. Their aim was to deceive people using the SIM card to withdraw their money from money transaction machines.
That aside, a Blue Corner Notice was also issued against him. "It should be noted that Sun Jiang, a business partner of Han Junwei, was arrested by ATS Lucknow on several counts. Since then, the process of issuing a Blue Corner Notice against Han Junwe has also been initiated in accordance with the procedure. "
.