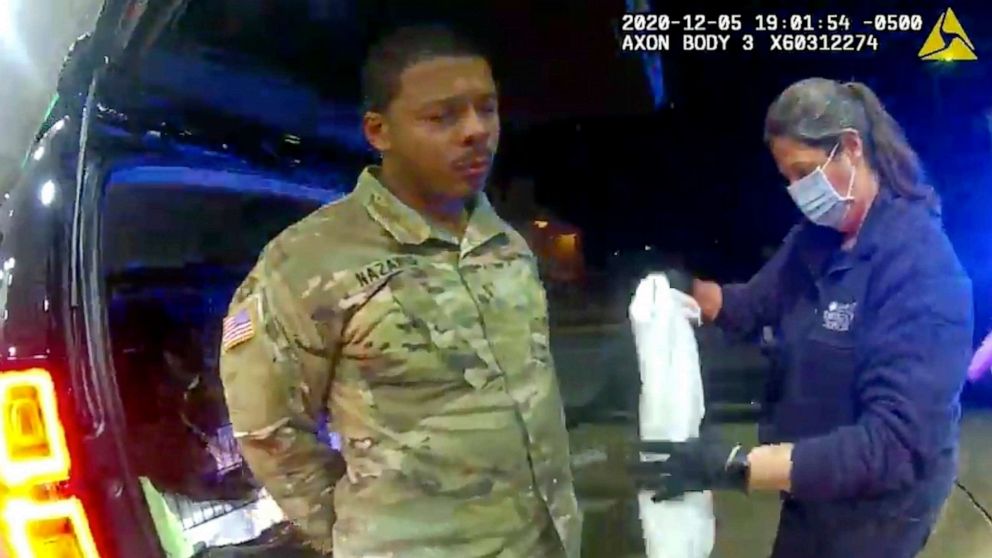 A uniformed black soldier who was sprayed in his car by Virginia police officers during a traffic stop has been awarded less than $4,000 in a million-dollar lawsuit against the two officers.
The jury awarded 2nd Lt. Caron Nazario was awarded a total of $3,685 in the lawsuit against Windsor, Virginia, police officers Joe Gutierrez and Daniel Crocker.
The officers faced four charges: assault, battery, false imprisonment and illegal search.
Gutierrez was ordered to pay $2,685 in damages, not malice, under liability for assault. He was acquitted of all other charges.
Crocker was liable for an illegal search, not malice. He was ordered to pay $1,000 in damages. He was acquitted of all other charges.
Nazario's lawyer, Tom Roberts, said it was a "sad day" and that the verdicts do not send the message to other police officers that "this behavior is unacceptable".
"It's open season for citizens in Virginia and the rest of the county," Roberts said in a statement. "Citizens cannot rest assured that scenes like this will not be repeated with impunity.
The officers arrested Nazario on the evening of December 5, 2020. Body camera images showed Gutierrez pepper spray Nazario when he refused to get out of the car.
One of the officers wrote in the police report that Nazario escaped the police because he did not stop immediately. Nazario stated that he wanted to stop in a well-lit area.
"I'm really afraid to get out," Nazario said during the traffic check.
"Yes, you should be," Gutierrez replied.
Police said they detained him because he had no visible rear license plate, but the footage shows a temporary license plate in the rear window of Nazario's then-new SUV. Nazario was not charged in the incident.
Gutierrez was fired from the Windsor Police Department in 2021 for failing to comply with department policies during the incident.