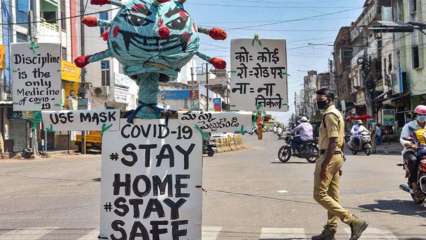 Amid the growing number of coronavirus cases, a number of states have moved to impose a nighttime curfew or Section 144 in some cities to keep tabs on the surge in coronavirus cases.
Take a look at the city / state that introduced new regulations:
Delhi
The Lieutenant Governor of Delhi amended the 2020 Delhi Epidemic Disease Management Regulation of Covid-19, which allows any " authorized person " to impose a fine of Rs 2,000 for a range of activities, including the fact not to wear masks.
The activities listed are the observance of quarantine rules, the maintenance of social distancing, the wearing of masks or blankets in all public places. It also includes a ban on spitting in public places as well as a ban on the consumption of paan, gutka, tobacco in public spaces.
Apart from that, only 50 guests instead of 200 will be allowed at the wedding ceremonies. The markets will remain open but the surveillance will be strict.
Delhi recently saw an unprecedented spike in COVID cases which forced the Delhi government to roll back some restrictions in the nation's capital and the MHA issued a 12-point set of instructions to be followed in order to bring the situation under control .
Bombay
BMC has ordered all schools in Mumbai to remain closed until December 31, 2020. Schools in grades 9 to 12 were previously scheduled to reopen on November 23.
The mayor of Mumbai said local trains are also not expected to start operating in the city. However, schools in other parts of Maharashtra will reopen on November 23, under instructions from the state government.
Gurugram
Haryana's government closed all schools in the state until November 30, with 174 students and 107 teachers testing positive after schools reopened.
Rajasthan
All districts in Rajasthan will be placed under section 144 from November 21. Power has been given to all district magistrates to roll back the Section 144 prohibitions to all districts in Rajasthan, CM Ashok Gehlot said.
Gujarat
Authorities have imposed a full curfew from Friday 9 p.m. to Monday 6 a.m. in Ahmedabad. Only stores selling milk and medicines will be allowed to remain open.
The nighttime curfew will remain in effect daily in Ahmedabad from 9 p.m. to 6 a.m. until further notice.
No school, no college to reopen from November 23, as had been decided earlier.
A nighttime curfew has also been imposed on Rajkot, Surat, Vadodara.
Madhya Pradesh
The night curfew will be imposed in five cities of Madhya Pradesh – Indore, Bhopal, Gwalior, Ratlam and Vidisha from November 21, from 10 p.m. to 6 a.m.
No lockdown will be imposed in the state except in containment areas. However, vehicle traffic between states and between districts will be stopped, said CM Shivraj Singh Chouhan.
Schools in grades 1 through 8 will remain closed until further notice, while students in grades 9 through 12 and colleges will be able to attend under current guidelines, officials said.
Theaters will continue to show films at 50% of their capacity.
.