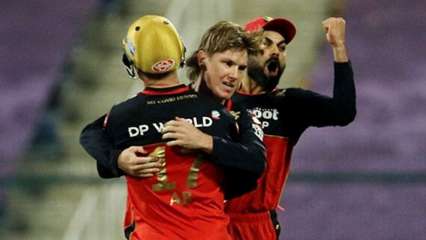 "Zamps, here's the $ 15 coupon for a vegan restaurant in Deliveroo. This is a great restaurant." This is the WhatsApp message that appeared on Adam Zampa's phone when he arrived in the United Arab Emirates (UAE) for the recently concluded IPL season for the Royal Challengers Bangalore (RCB).
Called late to replace his compatriot Kane Richardson, Zampa received this message from a number he did not recognize. It was from Virat Kohli. It was Kohli's way of welcoming a new player to the RCB setup.
"It was the first day of my arrival [and] he took me away. I didn't have his number. He acted like we had known each other forever, "Zampa said speaking to the Sydney Morning Herald.
Zampa got to know the Kohli who is very far from his personality on the pitch. Through post-game beers and sodas in the team room, discussions by the golf simulator, it was like any other player.
"It's absolutely not what you see on the cricket pitch," Zampa said. "He always brings his intensity to training and playing; he loves competition, he hates losing as much as anyone. He probably shows it more than anyone.
"Once out of the park, he's the scariest guy. He watches YouTube clips on the bus, he's going to laugh out loud.
"There was a cricket clip recently from cricket.com.au, there was a fun run, he laughed about it for three weeks in a row. He loves to hang on to jokes like that.
Zampa only played 3 games for the men in red and won two wickets. Speaking of a new friendship with Kohli, Zampa said Kohli was just a normal human like anyone else, so it was good for him to know the human behind the cricketer and the star.
"He's talking about coffee, travel, food -" Zamps, do you want a Beyond Meat burger? "- because he's a vegetarian himself. He's a very cultured guy. It's good to talk, it's great fun.
"One evening he pulled me aside and told me about his travels through Nepal. He always tells me about his new coffee machine. He's a pretty normal guy.
"The only thing you take away from spending time with these guys is that they're as much a human being as you are."
This friendship adds a new layer or angle to the potentially tantalizing contest when these two face off in the next limited series between India and Australia.
.