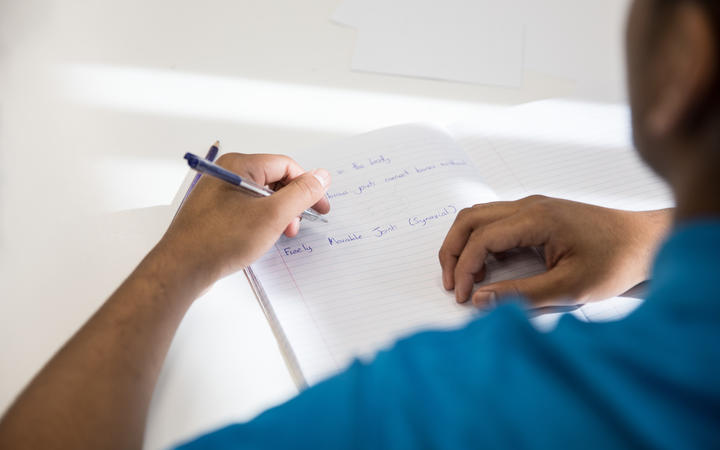 Auckland principals expect only a small number of children to return to school when the city goes to Alert Level 3.
From Wednesday morning, schools must reopen for children under 14 whose caregivers must return to work and high schools can also ask for permission to bring in small groups of older students.
Dylan Blomquist, a 13th-year student at Orewa College, was likely in the latter group, as the school planned to seek an exemption so some music students could attend classes.
"It's really exciting, you know how to come back, see familiar faces even though they're going to be covered in masks," he said.
But principals interviewed by RNZ said they would not ask for exemptions for many students.
Macleans College principal Steve Hargreaves said his school would only seek an exemption for a group of art students.
"Part of the problem is fairness," he said.
"We have subjects like textiles, but those are pretty big numbers and the teachers decided that choosing who to enter was a difficult task and only one teacher involved, so once that teacher interacted with a group of 10 students, they cannot interact with others. "
Hargreaves said Alert Level 3 wouldn't make a difference for the vast majority of students, but he understood the need for strict rules.
"The conditions are pretty restrictive, but I think they have to be. I think it's wise that there are some pretty clear and firm limits on how schools can handle this. The last thing that is we want, these are big groups coming together in schools and then having to close the school for 14 days due to an epidemic, "he said.
Heath McNeil of the Auckland Primary Principals' Association said survey responses from more than 300 of the city's schools showed most would only have one or two bubbles of up to 10 children.
"It sort of went from a kid coming back to the top end was in the early '60s," he said.
That would total about 4,500 children in schools who responded to the survey, or about 3%, comparable to the last time schools in the city were on Alert Level 3, McNeil said.
Manurewa High School principal Pete Jones said his school of over 2,100 students was only expecting four students under the age of 14 and that he was convinced the anxiety over the Delta variant had contributed to the relatively small number.
"With the added anxiety in the community right now, even some people who may have sent their kids back last year to level three will not be doing it this time around," he said.
The school was still thinking about what to do to ask for exemptions to bring back the upper cycle students for certain courses.
"For schools, in terms of logistics and planning, it's a lot of work for a very small number of people and it's quite difficult, but it's part of the larger 5 million team, we all do. our best to support in any way possible, "he said.
.