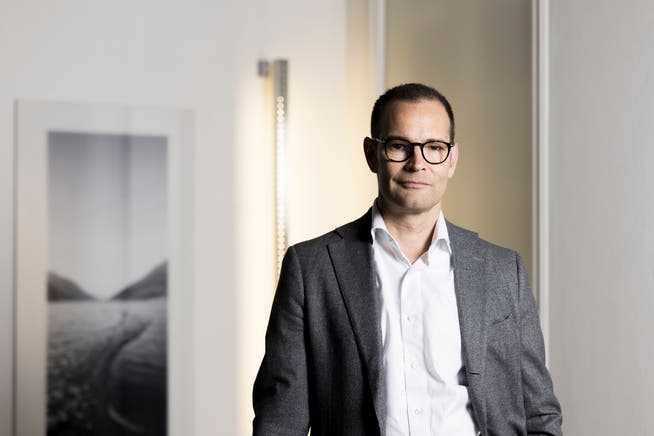 rescue parachute

Axpo CEO defends himself against criticism of the trading business
The criticism of Axpo's business model is getting louder after the energy company has applied for a billion-dollar loan from the federal government. But CEO Christoph Brand wants to continue trading in electricity.
The news went through the country like a shock wave: On Tuesday, Axpo applied to the federal government for a four billion rescue package. This is because the energy company fears a liquidity bottleneck due to the turmoil on the electricity market. After the first shock waves had subsided, criticism of Axpo's business model grew louder, especially with regard to electricity trading.
"The task of the electricity companies is to supply the economy and the population with affordable, renewable electricity. And not to speculate on the stock market," as SP co-president Cédric Wermuth quoted in the "Sonntagszeitung". He calls for a general restructuring of the electricity market. This means that companies like Axpo must be banned from "short-term, purely speculative electricity trading". Only electricity trading to ensure grid stability should remain permitted.
Axpo does not want to shake up the trading business
Axpo CEO Christoph Brand is now defending himself against the criticism of the company's trading business. International trade in electricity is "not a minor matter for the company, but a mainstay", as he says in an interview with the "Sonntagszeitung".
The Trading and Sales division contributed CHF 1 billion to EBIT in the last half-year period. "It would be absurd if we did without it," says Brand. As a result, Axpo would be able to invest far less in the expansion of new production capacities. "If we had stopped trading, we would now have a much bigger problem," asserts the CEO.
Christoph Brand also denied that Axpo had speculated wrongly. The "opposite" is the case. "If we had speculated, we would not have secured our electricity production years in advance." Then Axpo would now be "swimming in the money" due to the high electricity prices. The victims, on the other hand, would be the company's customers, such as industry or local electricity distributors, because they would have to pay "massively higher prices", according to Brand.
Brand: Axpo should have developed more scenarios
In another interview with the "Sonntagsblick", the CEO also addresses the criticism of the retail business. As the largest Swiss electricity producer without tied end customers, Axpo is completely exposed to the market. "Somewhere we have to be able to trade the 24 terawatt hours of electricity that we produce annually," Brand continues.
The Axpo boss affirmed that the company had developed "many scenarios" for possible price shocks and that the company's strategy had been "well thought out". At the same time, Brand is self-critical: "Should we have developed more scenarios with such shocks? Yes, perhaps."