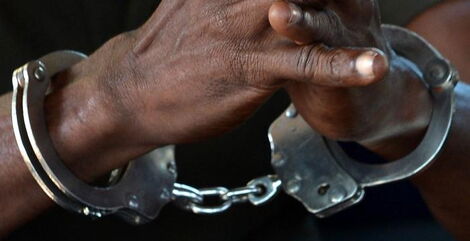 Parliamentary candidate Azimio La Umoja, Edick Omondi Anyanga, has been arrested on charges of shooting his opponent.
Migori County Police Chief Mark Wanjala confirmed that the candidate for a parliamentary seat in Nyatike was in custody pending his arraignment in court.
Anyanga, who is vying for the UPIA party ticket, allegedly shot Justus Ochieng at a local pub in Lwanda Konyango, Migori County, on July 23.
Police initially confiscated his weapon and 12 rounds of ammunition on the night of the shooting.
An undated image of a suspect in handcuffs
Twitter
"He (Anyanga) started threatening the victim while he was in his vehicle, claiming that he was going against his political ambitions," an eyewitness claimed.
According to reports, Anyanga and Ochieng were engaged in an altercation before the Azimio candidate pulled out his firearm.
Ochieng suffered critical hip injuries and was rushed to a nearby hospital for emergency care.
Detectives involved in the case launched a manhunt for Anyanga, who once served as the area's MP, after Ochieng's friends filed a complaint.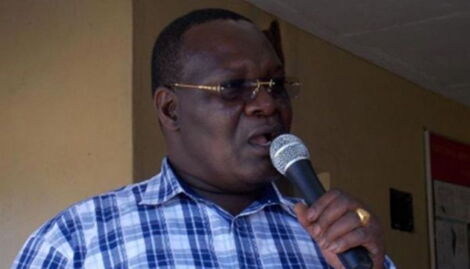 Aspiring Edick Anyanga of the UPIA party at a previous campaign forum in Migori County
File
However, Anyanga's allies rejected the charges, claiming the former MP acted in self-defense in what they believed was an attempted political assassination.
"We condemn the attempt to eliminate Edick Omondi Anyanga by young people who are known and sponsored by his opponent.
"We thank God their plan failed miserably and Anyanga is safe," they said in a joint statement.
The suspect has yet to respond to the allegations and charges against him.
ammunition gun to arrest suspect Assassin