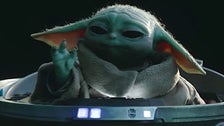 "The Mandalorian" is back for its third season, and a new trailer released during Monday night's NFL playoff game shows just how little Grogu's powers are growing.
Set in the Star Wars universe, the show's new season, which kicks off March 1 on Disney+, takes place after the events of last year's "Book of Boba Fett." In that series, Grogu — aka The Child, aka Baby Yoda — quit his Jedi training with Luke Skywalker to rejoin space daddy Din Djarin (Pedro Pascal).
"Being a Mandalorian isn't just learning how to fight," Din explains to Grogu in the trailer. "You also need to know how to navigate the galaxy. That way you never get lost."
The two head to the devastated planet of Mandalore, where Mando hopes to redeem himself for the transgression by removing his helmet. The trailer also shows lightsaber-wielding Jedi facing an unseen threat, a cantina for droids, a Kowakian monkey lizard, and hordes of Mandalorians… ending with Baby Yoda making short work of an evil-intentioned creature.
Grogu has shown some serious strength before, but it usually leaves him exhausted.
In this case, though, he doesn't seem to come out of the encounter any worse for the wear, at least in the quick clip shown in the teaser.
See the full trailer below:
Season 3 also features series relics Katee Sackhoff as Bo-Katan, Carl Weathers as Greef Karga, Giancarlo Esposito as Moff Gideon, and Amy Sedaris as Peli Motto. Christopher Lloyd will also appear in an as yet unknown guest star.
It's also a safe bet that fans will see Rosario Dawson return as Ahsoka Tano ahead of the launch of her own series later this year.