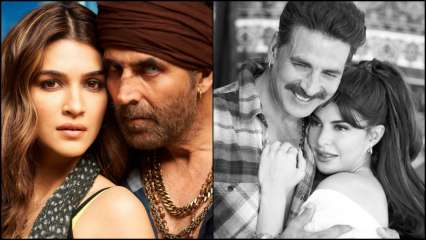 The filming of Akshay Kumar star Bachchan Pandey is happening in full swing in Rajasthan. Now, a few actors have completed the program as well as the film. Earlier Monday, Kriti Sanon took to her social media pages and shared a photo posing with Akshay. In the photo, the two are seen in their look of Bachchan Pandey and Kriti announced that she has completed the film schedule with Akshay.
The Heropanti the actor wrote: "And that's a timeline for me with @akshaykumar for # SajidNadiadwala #BachchanPandey directed by @farhadsamji … #Myra @wardakhannadiadwala One of the nicest, funniest and most memorable shows I've had so far … Time has flown and we ended up making a movie in between the resonant laughter, the game sessions and the endless lunches and dinners as we have all become one family! It was surely the saddest goodbye from the magnificent Suryagarh Palace .. but we will meet again soon! I can't wait to see you in theaters! @nadiadwalagrandson. "
Meanwhile, Arshad Warsi has completed the filming of Bachchan Pandey and announced it on his Instagram page. He shared a photo with Akshay and captioned it as follows: "Recap Bachchan Pandey. This movie is going to be very close to my heart because I have met some of the most talented and truly wonderful people. Kriti, Jacqueline, Akshay, Sajid, Farhad and of course the crew … thank you very much @nadiadwalagrandson @wardakhannadiadwala @akshaykumar @farhadsamji. "
On the other hand, Jacqueline Fernandez launched Bachchan Pandey photograph with Akshay and shared a black and white photo with him. She wrote: "Most excited today as I start filming with @akshaykumar for #BachchanPandey from # SajidNadiadwala directed by @farhad_samji. Are you ready to meet this gang in theaters next year? @WardaNadiadwala @ NGEMovies @shaanmu @chandiniw @ stacey.cardoz hairstylist_madhav. "
Bachchan Pandey is directed by Farhad Samji and is scheduled for release on January 26, 2022.
.