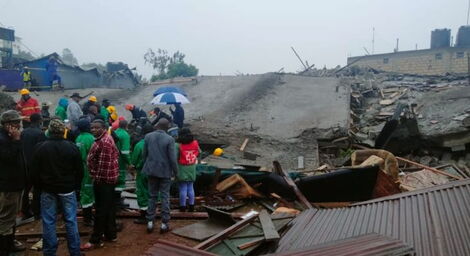 Kenyan banks have taken tough action against landlords in the wake of rising cases of building collapses.
Local lenders will not make loans to contractors until they are insured occupational safety measures have been taken.
The new development was announced by Nakuru County Director for Occupational Safety and Health Services (DOSH), Simba Ondimu, on November 24.
A building in Ruaka near Fortune Club area collapses on Thursday, November 27, 2022.
Twitter
"Before getting a construction loan, banks will require a certificate of registration of a building or a construction site from the respective DOSH offices in the province," Ondimu revealed at a press conference.
"The new guideline will reduce the risk of injury to the public, as well as the risk of work-related injuries and accidents," Ondimu noted.
Ondimu added that insurance companies will also require a certificate from DOSH before insuring a building.
"Insurance companies will not pay for worker injuries unless the industry or factory proves they have followed all safety measures," he explained.
The new directive from the financial institutions will ensure that landlords place buildings that meet all required structural and safety standards.
Most buildings that have collapsed do not meet the requirements of the building permit.
On November 18, Mombasa County Governor Abdulswamad Sheriff Nassir halted construction on 162 buildings, noting that they did not meet minimum safety standards.
Five days later, on November 23, Johnson Sakaja ordered a crackdown on all buildings to ensure they were up to standards.
The National Construction Authority (NCA) noted in a report that three out of 10 buildings in Nairobi are non-compliant and pose a danger to the public.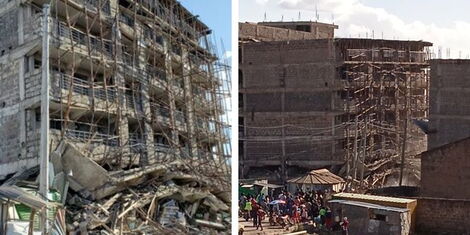 A collage of the building that collapsed in Tassia, Embakasi on Monday, November 7, 2022.jpg
Twitter
Ali Manzu
accident murder