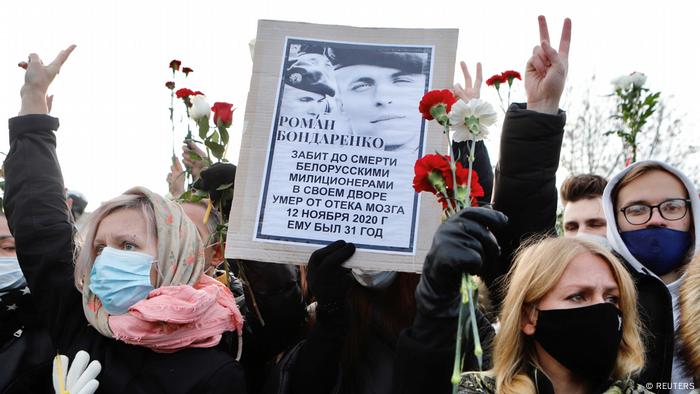 Several thousand mourners paid tribute to opposition activist Raman Bandarenka on Friday at a church ceremony in Minsk, denouncing the death of the 31-year-old professional soldier who they say lost his life in an altercation with Belarusian security forces.
The attendants formed a line half a kilometer (550 yards) from the church until the coffin was erected. They sometimes chanted "We will not forget, we will not forgive" and "Rama, you are a hero".
The mourners also chanted "I'm going out," the last message Bandarenka sent to a group chat on a messaging app before he was killed.
"Raman Banderenko was beaten to death by Belarusian police in his own backyard," poster says
According to authorities, Bandarenka fought with a group of intoxicated civilians. He suffered brain damage and died in a hospital last week. Witnesses, however, say Bandarenka was attacked and detained as he confronted a group of people dressed in civilian clothes, after the group went to a local playground to remove red and white ribbons symbolizing the movement. of protest.
Protesters believe the men were part of the security forces and that Bandarenka was beaten to death. The news of his death has infuriated protesters who have been demanding the resignation of strongman Alexander Lukashenko since August. At least two other protesters have so far lost their lives, and many more are missing.
What has been the government's reaction?
The protesters' story was reinforced by a medical report which revealed that Bandarenka did not have alcohol in his blood. Authorities responded by arresting medical personnel who allegedly leaked the report and a journalist who published it.
President Lukashenko expressed his condolences to Bandarenka's family a day after his death and urged people not to politicize the matter, while also citing reports that the soldier was drunk. On the day of the funeral, Lukashenko vowed to release new information about the death next week.
He told a reporter "to wait a bit, we'll say everything next week. Believe me, it will be very interesting," said the leader without providing details.
dj / aw (Reuters, TBEN, Interfax)
.