Legendary musician Ben Guthae has announced that he has dumped Azimio la Umoja Coalition.
During his speech on Monday, January 23, at the funeral of the sister of Trade Cabinet Secretary Moses Kuria in Gatundu, Kiambu County, he announced that he had officially joined Kenya Kwanza.
The Tano Tena hitmaker stated that he learned of President William Ruto's presence through Kuria after visiting him at home.
"I visited Moses Kuria on Friday and heard about your visit. I was wondering if I should attend the funeral or not. But I had to swallow my pride and come to you.
An image from Ben Githae's video 'Tano Tena' released in 2017
YouTube
When things go bad, moving forward is the only option. I'm here now, I left them. I met Kiambu Women's Representative Anne Wamuratha and she asked me why I didn't attend today's Kamukunji meeting. I told her I belong here," he announced.
Looking back at Ruto's speech declaring that his government belongs to the whole nation, Githae stated that he too had come as a lost sheep who did not vote for Ruto but was ready to be accepted again.
"You went to Nyanza and stated that 99% did not vote for you and called them for an interview and in your house I believe you have many mansions. We are only 20% who did not vote for you. Will it be really hard for you to talk to us? he noticed.
The Kikuyu musician pleaded for a warm welcome from Vice President Rigathi Gachagua, asking him to accept any musician Jubillee dumped, just as he has welcomed other MPs.
"Riggy G, you called all the Jubilee MPs, we are also here as musicians who belonged to the other side. Call us now that we're done," he said.
Speaking at a previous interview, the Tano Tena musician revealed that his friendship with former president Uhuru Kenyatta eventually turned into an unlikely alliance where he and Raila Odinga sat at the same table as they mapped out the way forward for the Kenyan music industry, supporting the opposition.
"My friendship with Uhuru Kenyatta started way back in 2011 during this trip to The Hague. Back then, Kenyatta and his team used my song 'Mabataro(My needs) and then our relationship began.
Fast forward to 2017, Kenyatta commissioned his team to sit down with me and create the 2017 election song. In fact, I met the then President in State House Nakuru, and later I met his men who have now taken me into the 'Mbele Iko Sawafaction, led by Moses Kuria," he stated.
However, he had stated that he had one condition before supporting Raila and composing a campaign hit for him. Githae then explained that he would have supported Raila if only Uhuru had supported him.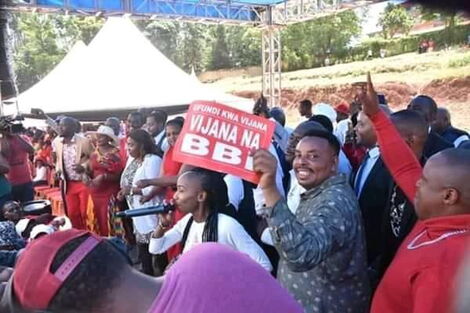 Gospel musician Ben Githae
Facebook