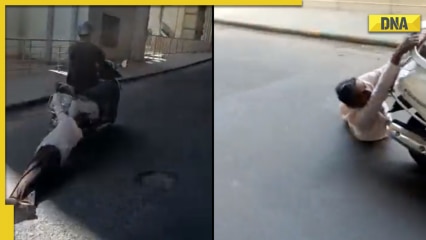 Just days after a woman was horribly dragged to death after a hit-and-run in Delhi's Kanjhawala district, a shocking video emerged of an elderly man being dragged behind a scooter from the Bengaluru city of Karnataka after an accident.
Video of the shocking incident surfaced on social media, showing a 71-year-old man being dragged onto the road behind a scooter. The man was reportedly dragged about a kilometer by the two-wheeler.
The scooter rider is said to have hit a four-wheeler and during questioning, the scooter rider tried to escape, after which the four-wheeler driver got hold of the scooter. However, the suspected scooter rider, identified by police as Sahil, 25, did not stop and the four-wheeler driver trailed after the scooter, the video showed.
The video shows the man being dragged behind the scooter as other vehicles eventually intervene and stop the scooter. It can be seen that the man being dragged behind lets go of the scooter and argues with the driver of the two-wheeler.
#WATCH | Man is dragged behind a scooter on Magadi road in Bengaluru

The victim is currently receiving medical treatment at a city hospital. The driver of the two-wheeler has been detained by the police at PS Govindaraj Nagar: DCP West Bengaluru

(Video verified by the police) pic.twitter.com/nntPxaZxSu— ANI (@ANI) January 17, 2023
While sharing the video on social media, one user claimed, "The scooter rider tried to escape and dragged the four-wheeler driver from Magadi Road toll gate to Hosahalli metro station." Shortly after the video went viral, the police acted and arrested the driver of the scooter.
According to ANI reports, a senior official said, "The victim identified as Muttappa (71), a resident of Vijayapur district, is currently being treated at a hospital. Govindaraj Nagar Police has detained the driver of the two-wheeler."
The video of the man being pulled by the scooter went viral just weeks after the horrific Delhi Kanjhawala case was reported, where a 20-year-old woman was dragged to death by a Maruti Baleno car in the early hours of January 1.
The woman was dragged approximately 8 miles for more than 30 minutes and suffered several serious injuries from being dragged into the road. She eventually succumbed to her injuries and all the suspects in the case were arrested.
(with ANI inputs)
READ | Delhi Bhalswa Dairy murder: Man beheaded on camera in targeted killing, video sent to Pakistan