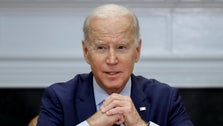 The US, along with allies, is sending tanks to Ukraine so that the country can be even more successful at resisting Russian invaders, President Joe Biden said Wednesday.
The Biden administration will send 31 M1 Abrams tanks – the equivalent of one Ukrainian battalion – to the Ukrainian armed forces, while Germany and other European states will ship German-made Leopard 2 tanks. Britain also plans to supply Kiev with its own Challenger 2 tanks, and France is supplying AMX-10 armored fighting vehicles. Together, the deliveries represent a turning point in Western support for Ukraine – and a sign of confidence in the Ukrainians' ability to retake territory from the Russian forces that invaded their country 11 months ago.
"The United States will stand shoulder to shoulder with allies and partners and will continue to do everything we can to support Ukraine," Biden said in his remarks on Wednesday.
Russian President Vladimir Putin "expected Europe and the United States to weaken our resolve," Biden continued. "He expected our support for Ukraine to crumble over time. He was wrong. He was wrong from the start and continues to be wrong."
Ukrainian leaders say the army needs 300 tanks to support its war effort, taking advantage of Russian weakness before Moscow can re-equip its troops. The tanks, especially the Abrams models, are advanced, so it will likely take months for them to arrive and for Ukrainian troops to learn how to deploy them.
"Abrams tanks are the most capable tanks in the world, and they are also extremely complex to operate and maintain," Biden said. "So we are also giving Ukraine the parts and equipment needed to effectively support these tanks on the battlefield."
In recent weeks, Germany has been hesitant to approve tank transfers for Ukraine — including from Allies deploying German equipment that needs Berlin's permission to export — for fear of escalating the conflict. But earlier on Wednesday, German Chancellor Olaf Scholz acknowledged he had heeded international criticism and the argument that without strong support for Ukraine, an even worse escalation by Russia would now be inevitable. Scholz said Germany would send 14 Leopard 2 tanks.
Some US officials were wary of sending Abrams tanks to Ukraine. But their colleagues who argued that the pledge was key to getting Germany moving won the internal debate of the Biden administration.
Biden rejected the idea that Germany "forced" him to change his mind about sending tanks, adding that "we want to make sure we're all together."
Biden still insists the US will not fight in Ukraine with its own troops.
"Today's announcement builds on the hard work and dedication of countries around the world, led by the United States of America, to help Ukraine defend its sovereignty and territorial integrity," Biden said.
"That's what it's about, helping Ukraine defend and protect Ukrainian land," he continued. "It is not an offensive threat to Russia. There is no offensive threat to Russia. When Russian troops return to Russia, they will be where they belong. This war would be over today. That is what we all want, an end to this war."