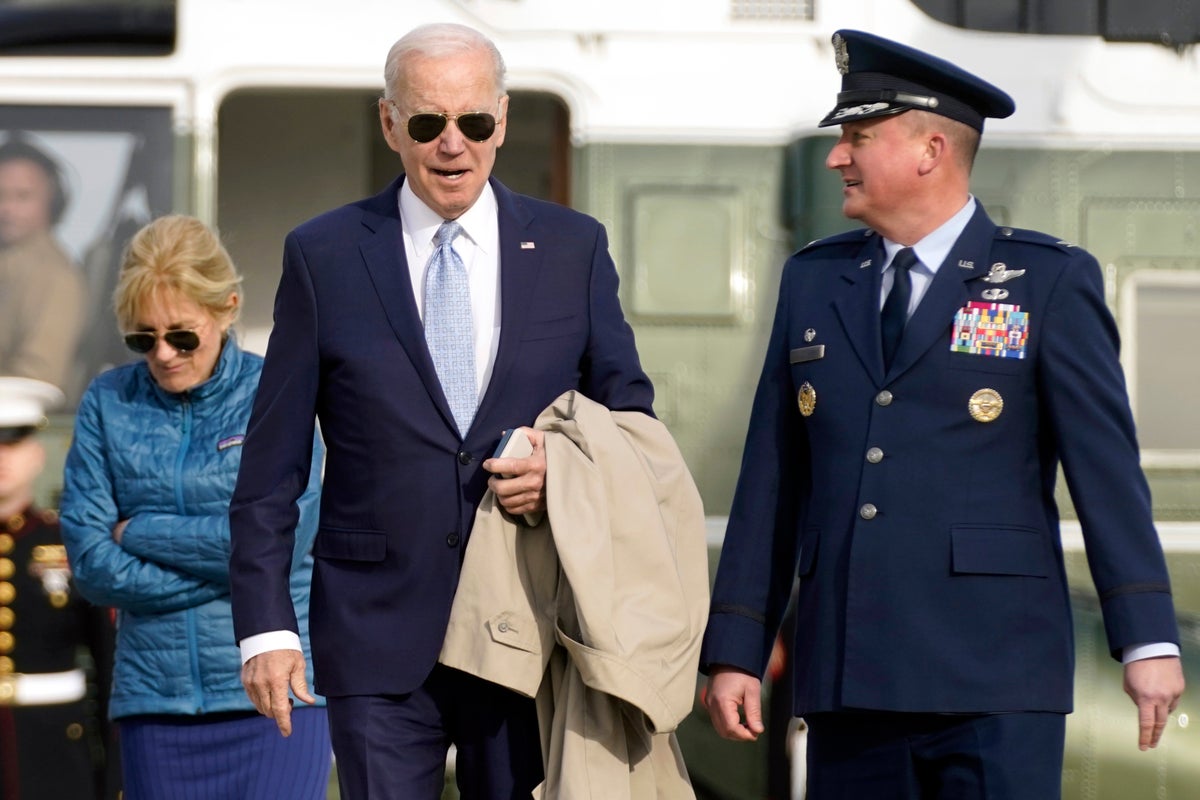 Joe Biden heads to El Paso, Texas, today as his administration faces important questions about how to deal with the continued flow of thousands of Central and South Americans seeking asylum in the US each month.
The president's trip marks his first trip to the U.S.-Mexico border as commander-in-chief and comes specifically as his administration battles in court to end Title 42, a controversial public health protocol used by both the Trump administration and now. used by its own government. as a legal justification for refusing migrants at the border.
The Biden administration has seen levels rise significantly since before the president took office, most recently seeing more than 227,000 migrants stopped by border agents in September, the most recent month for which data is available. More than 70,000 were evicted that month under Title 42.
In September 2021, there were 192,000 migrants encountered by agents in the southwestern border region, while only 57,674 encounters took place in September 2020.
The Biden administration recently expanded that authority to create a new directive authorizing U.S. Customs and Border Protection to turn away migrants from several countries in hopes of turning that tide; in October 2022, the system was invoked to reject all Venezuelan migrants found at the border, with government officials citing a huge influx of both individuals and families from the South American country.
Last week, Mr Biden's team expanded the policy, stating that it would now also affect all asylum seekers from Haiti, Cuba and Nicaragua. In any case, a new pathway has been set up for migrants with sponsors to apply and be admitted.
But even with the expanded legal authority his government wields thanks to Covid-19, Mr Biden's team has come under criticism for the overall ongoing trend of thousands of migrants illegally crossing the border each month. Many found by US Customs and Border Protection are processed in depots and deported, while others are released to the US.
The problem is caused by several factors, including America's long-neglected immigration law framework that legislators have tried countless times to reform but failed to do. Economic conditions, political instability and violence caused by organized crime in Central and South America also remain major drivers of northward migration.
Vice President Kamala Harris was appointed by Biden to lead his administration's efforts to address those factors, but the White House's efforts have yet to produce meaningful results. Meanwhile, Red state leaders such as Ron DeSantis of Florida and Greg Abbott of Texas continue to protest the supposed inaction of Democrats and have organized bus caravans of recently arrived migrants to towns with Democratic leadership in an effort to keep media attention on the issue.
The prospect of passing immigration reform seems bleaker than ever right now, thanks to a new slim Republican majority in the House that is expected to be largely beholden to the most conservative members. It is not clear what the Biden administration intends or even might do to curb the trend by not reversing course and embracing the Trump administration's policies to control migration that are loudly described as inhumane and was considered doubtful. effectiveness when it came to actually discouraging people from migrating north.
According to the White House, the president plans to "assess border enforcement operations and meet with local officials who have been key partners in managing the historic numbers of migrants fleeing political repression and gang violence in Venezuela, Haiti, Nicaragua and Cuba." ", a clear nod to the four countries affected by his Title 42 expansion.
He told reporters last week that he hoped to wait for a final decision on Title 42's fate before visiting; the Supreme Court last month ordered it to remain in place, but legal battles over the policy continue.
"I wanted to make sure I knew what the outcome was, at least the near outcome, on Title 42, before I went down," Biden said, acknowledging that such a plan was no longer viable. "I don't like Title 42. But it's the law now and I have to operate within it."
Republicans, meanwhile, called Mr Biden's trip "nothing more than a photo shoot" in an official statement from the RNC. Ronna McDaniel, GOP chairman, is making her own return visit to the border while the president will be there.
The governor of Texas, meanwhile, appeared on the TBEN Business Network to complain that he was not invited to participate in Mr Biden's visit to the Lone Star State until the very last minute. Mr. Abbott has earned Democratic scorn and cruelty charges for his program of organizing bus caravans to transport groups of migrants to places such as outside the Naval Observatory in Washington DC, the residence of Ms. Harris. In many cases, migrants have arrived at their destination without warning in the middle of the night, in the middle of freezing temperatures, with only local volunteer groups to assist them.
"Joe Biden didn't call me," Abbott told Maria Bartiromo Sunday morning futures. "He did not call me or his staff to inform us of his visit or to invite us."
"[L]Last night we got a random email from one of my employees asking if I would be there to meet him on the tarmac," the governor claimed.
Republican opposition to his visit and criticism of the president's plans comes despite their very public calls for him to do so for months.
After Sunday's trip to the border, Biden will fly to Mexico City to attend the North American leadership summit and bilateral meetings with the leaders of both Mexico and Canada.