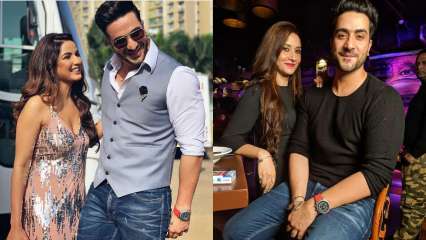 That 'Bigg Boss 14' contestants Aly Goni and Jasmin Bhasin are great friends is known to all.
The duo met during their time on the stunt reality show 'Khatron Ke Khiladi' and have been best friends ever since. They are now appearing on the popular " Bigg Boss " show, and while the first has been on the show since day one, the last one entered as a wildcard in week four of the show. Aly has been very clear that he wants her best friend to win the series, and now even Aly's sister, Ilham Goni has said that if Aly or Jasmin wins, it would be the same for her.
Ilham also said that they were both equal for her and even though she wanted Jasmine to bring home the trophy.
"When Aly came back inside the house he said to me, 'Ilham I'm not going to win the series, it's not my priority. I'm going so that I can be myself and can guide her in the right way too, but when it comes to winning, I would always like Jasmin to win. I am not in competition with it. But that Aly needs to play her game and not just be there for fun, that's also a reality. He wants Jasmin to win, but when it comes to the second priority or the top three, he would want to be there with her, "Ilham added.
"If he wants her to win, there's nothing wrong with that, it's their bond and I would respect and love him." For me, if Jasmin wins or Aly wins, it's the same thing. Jasmine is just as important to me, and I love her too. So I'll be more than happy if she wins, "she added.
Ilham also confessed that Aly's entry had given Jasmin confidence and strength, and added, "But if you see they're both playing their own games. They don't interfere there. friends tell each other to calm down or not to get angry, that's okay. And Aly has guided her in the right direction. Haters are going to hate, there are also fans who follow other people , and they'll always say negative things, and that's okay. But yeah, Jasmine has come a lot stronger than before, and now at least she's realized you can't be on everyone's right books. "
Ilham praised the 'Tashan-e-Ishq' actress and said she liked her very much. She said, "Aly and Jasmin share an amazing bond. She's an amazing soul. I've never seen such a pure person in my life and whatever she's there on the show she's like that on the show. real life too. People might call her fake, but she really is like that, she has the heart of a child. "
Expressing his take on Aly and Jasmine's friendship, Ilham said: "Jasmine and Aly are poles apart. Aly is hot-tempered and Jasmine is very calm and mature. They balance each other out and I love the bond that they have. they share. Aly lives in Mumbai, while we are in Jammu and Kashmir, and Jasmin is like family to him there. We never worry about him, if something happens we just call him and Jasmin let's ask about it. It's amazing and I haven't seen such a friendship and and I hope it stays that way. "
.