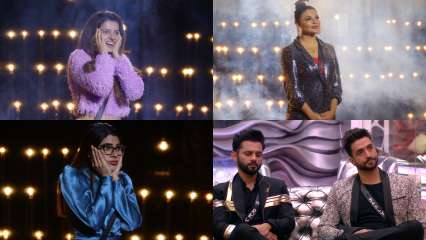 'Bigg Boss 14' has come to an end and it's the day this season's winner of the controversial reality show will be declared by superstar host Salman Khan as one of the top five finalists – Rubina Dilaik, Rahul Vaidya, Nikki Tamboli, Rakhi Sawant and Aly Goni.
With thousands of fans across the country preparing to watch who will finally lift the glittering 'Bigg Boss' trophy this year and keep the cash prize, we've thought to bring you a compiled list of what's up. wait, how, where and when to watch the "Bigg Boss 14 Grand Finale".
What to expect:
As always, the competitors who were among the finalists this season, will give special performances and bring joy to the house while spreading the fervor of the "Grand Final".
Apart from this, the famous guests are also expected to enter the show.
Where to watch it online?
If you don't have access to television but are excited to watch the "Bigg Boss 14" Grand Finale, you can do so online.
You can log into Voot Select or MX Player and watch the final: Check out the links here:
– voot.com/shows/bigg-boss
– https://www.mxplayer.in/show/watch-bigg-boss-series-online-978ef2e097cf50d44af830ecd783d655
– https://www.colorstv.com/bigg-boss-14/
On Voot, the show will begin as usual, either 15 minutes before it airs on TV or at 8:45 p.m.
However, the winner will be declared "live" and superstar Salman Khan will be in Mumbai Film City to make the announcement by raising the winner's hand and presenting the winner with the trophy in his trademark style.
When and where to watch it on TV?
The "Bigg Boss 14" grand finale premieres on Colors TV at 9 pm on Sunday February 21. The show will also be broadcast on the HD version of Colors TV.
For Tata Sky subscribers, the Colors TV channel number is 147 and 149 for Colors TV HD.
For Dish TV subscribers, Colors TV is available on channel number 121 and Colors TV HD on 120.
Airtel subscribers can tune to channel number 116.
Meanwhile, on Saturday, the candidates took stock and reflected on how their trip has gone inside the house. The finalists – Rahul Vaidya, Rubina Dilaik, Rakhi Sawant, Aly Goni and Nikki Tamboli – witnessed their journey as Bigg Boss showed them a special video that featured some of their most interesting moments and incidents on the show.
.