Bill Gates toured Makueni County to conduct a benchmarking exercise and lay the groundwork for future partnerships, said Area Governor Mutula Kilonzo.
Mutula will release a statement on Tuesday, November 15, after a meeting with the American billionaire.
"We are privileged as a county to have hosted the co-chair of the Bill and Melinda Gates Foundation, Bill Gates.
"It's a trip we've been organizing for a while," Mutula told the press.
Governor Mutula KIlonzo in conversation with Microsoft founder Bill Gates
Twitter
Mutula Kilonzo
"The trip had two goals: First, primary health care, especially in hospitals in Kathonzweni and Wote.
"Second, to see how residents of Makueni are using smart agriculture to combat climate change," Mutula added.
Bill Gates was particularly interested in how the Mother and Child Hospital in Wote provided high-quality health care to residents, despite the support of only 50 percent from the Kenya Medical Supplies Authority (KEMSA).
"Gates was interested in an innovation that we have started across all of our healthcare facilities called The Commodity Platform, which provides us with all the data about our healthcare workers and pharmaceutical drugs in our facilities," explains Mutula.
"He took a very keen interest in the field rate and was trying to find out how we deal with the problem of only receiving 50 percent of what we need from KEMSA and how we close the gaps," Mutula explains of the benchmarking- excercise.
In addition to visiting provincial health centers in the region, Gates also visited Makueni residents to learn how they are coping with the ravages of climate change.
"Bill Gates has visited a private farm that practices smart farming, which he is very passionate about, and will speak later on the effects of climate change and food security," Mutula told the press.
Mutula spoke about how the county will benefit from the visit, noting that the county had made a presentation for Gate to consider.
"We have prepared a presentation on food security, agriculture and value chain and aim to secure funding from the Ksh170 billion the foundation has spent to mitigate the adverse impacts of climate change," the governor announced.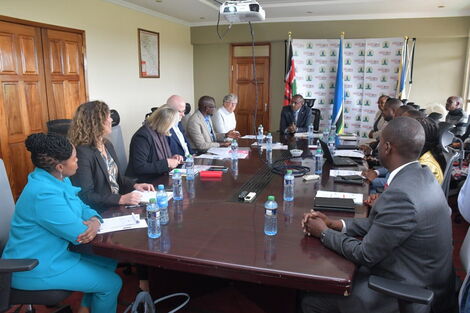 Makueni County employees give a presentation to Bill Gates on agriculture, food security and value chain
Twitter
Mutula Kilonzo
medicine