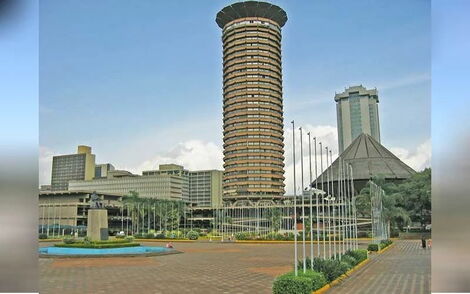 A court in Nairobi found guilty a boda boda motorcyclist believed to have collected information about the Kenyatta International Convention Center (KICC) and passed it on to a terrorist group in Somalia.
According to the ruling of the chief magistrate Benard Ochoi of Monday, January 16, the suspect carried out surveillance at the iconic KICC building in 2019.
During the mission, he was tasked with establishing the number of entrances to the iconic building and determining how security screenings were conducted.
In addition, the court has learned that the boda boda rider was tasked to find the exact location of CCTV cameras, loading zones, parking lots and toilets.
Inside the front view of Kenyatta International Conference Center in Nairobi Central District.
Standard
The suspect, active as a trader and boda boda driver, shared the information with another person in Somalia, whom investigators determined had the motives for bombing the landmark building.
The collected information was shared through various pseudo-Facebook accounts. However, detectives gathered information about the planned attack and arrested the suspect before the execution took place.
"It is also my finding that the prosecution has proved both facts beyond a reasonable doubt and that he has been convicted of them," the judge ruled.
In his defence, the suspect argued that his contact in Somalia was a sugar trader. He also told the court that his contact in Somalia wanted to hold a cultural event at KICC.
According to the public prosecutor's office, the boda boda rider was forced to buy new mobile phones, register new SIM cards and create three new Facebook accounts. This was to help him hide his identity.
He allegedly used lost national identity cards to register new SIM cards, which he used to communicate with extremist groups in Somalia.
In addition to conducting surveillance on KICC, the suspect also allegedly collected information on various routes from Nairobi to Elwak Mandera County.
During his trip, he monitored the number of roadblocks and how police officers stopped motorists for random checks.
Investigators said the information was intended to help the extremist group escape after bombing the conference center.
A police tape at a crime scene.
TBEN.co.ke
criminal shabaab terrorist to arrest suspect