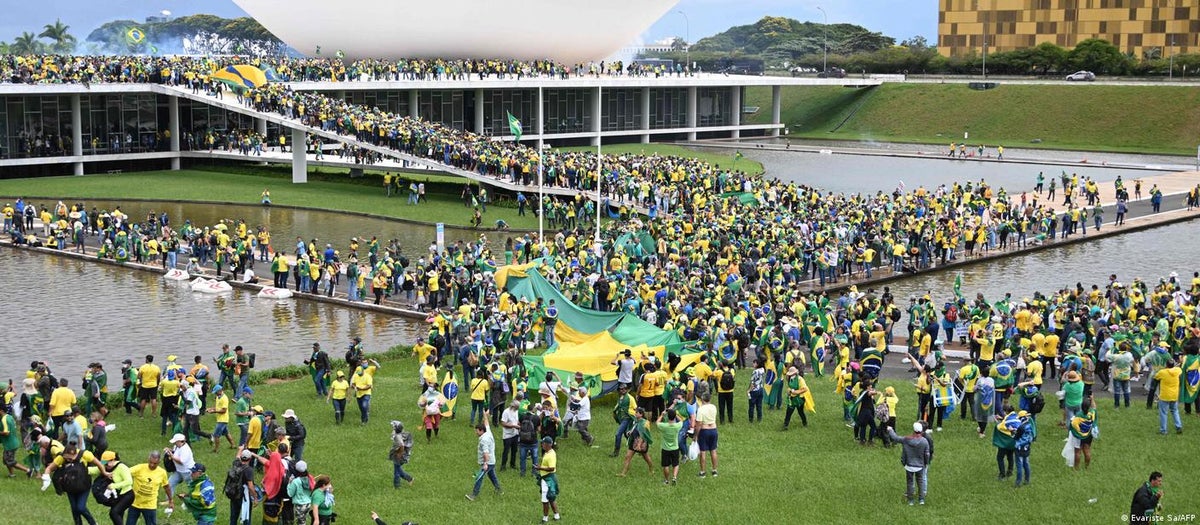 Supporters of Brazil's former president Jair Bolsonaro broke through a blockade set up by security forces and raided government ministries and the Congress building in Brazil on Sunday, with violence reminiscent of the storming of the US capital on January 6, 2021.
Video material obtained by Reuters from Bolsonaro-related groups and video from local broadcasters show protesters storming the presidential palace in the capital Brasília.
According to CNN Brasil, protesters also raided the parking lot of the Planalto Palace. Brazilian President Luiz Inacio Lula Silva is currently on an official trip in the state of Sao Paulo.
The group stepped over a police fence and climbed the ramp that provides access to the roof of the Chamber of Deputies and Senate buildings.
Protesters wearing yellow and green T-shirts and Brazilian flags attacked some police vehicles securing the building, Spanish news agency EFE reported. They also destroyed protective barriers.
Footage shared on social media showed hundreds of people pouring into the building. The demonstrators received tear gas from the police.
Bolsonaristas posed for selfies in the congress hall and looted several official buildings, Brazilian media outlet Metrópoles reported.
A Brazil-based reporter shared a video on Twitter of the protesters allegedly storming the building.
Lawmakers and political observers were shocked by the assault on the heart of Brazilian politics.
"The National Congress is now under attack by TERRORISTS!" Brazilian Senator Randolfe Rodrigues wrote in a statement in Portuguese on Sunday. "Anti-democratic criminals cannot roam free, there is nothing to tolerate with the intolerant. We expect the harsh application of the law against ALL involved in these actions."
Lula ally André Janones called the rioters "terrorists" in one after on Twitter.
Supporters of the far-right Bolsonaro have been protesting for months, refusing to accept the long-time leftist leader's October loss at the polls.
Protesters have sometimes resorted to violence and large-scale actions, setting fire to vehicles, clashing with police and blocking roads.
Others have gathered outside military buildings to call on the armed forces to intervene and Lula to resign.
Bolsonaro supporters camped in groups near Brasília prior to the riots, the TBEN reports.
Bolsonaro opposed the convention, refusing to attend earlier this month to symbolically hand over the president's sash to his successor, opting instead to temporarily leave for Florida amid a cloud of investigations and potential corruption charges.
The former Brazilian president wandered the streets near Orlando during Lula's inauguration, eating Kentucky Fried Chicken at a fast-food restaurant.
More to come…