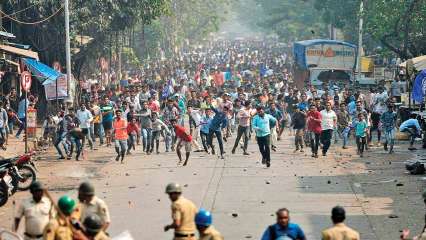 P Varavara Rao, one of the main defendants in the Bhima Koregaon case, was released Monday by the Bombay High Court for six months on medical grounds.
A division bench of Judge SS Shinde and Judge Manish Pitale has passed the bail order in two separate cases involving the 82-year-old.
After six months, Rao will have to surrender or ask for bail again. During this time, he will have to inform the National Investigation Agency (NIA) of his location with his phone number. Imposing strict conditions on the bail, the court ordered Rao to submit his passport to the NIA and appear in court during the hearings.
Rao is not allowed to contact other defendants in the case or to pressure witnesses.
He was notably first arrested by Pune police in August 2018, in connection with the conspiracy to assassinate Prime Minister Narendra Modi case, which he and his family have denied, according to a report by the IANS news agency.
The Bhima Koregaon case concerns alleged inflammatory speeches made by some prominent figures at the Elgar Parishad conclave in Shaniwarwada in Pune on December 31, 2017. According to Pune police, the speeches sparked violence near the Koregaon-Bhima war memorial in the neighborhood the next day.
Left-wing activists Sudhir Dhawale, Rona Wilson, Surendra Gadling, Mahesh Raut, Shoma Sen, Arun Ferreira, Vernon Gonsalves, Sudha Bharadwaj and Varavara Rao have been arrested by Pune police for alleged links to Maoists
.